Hands-on, Practical Guidance for Educators
From math, literacy, equity, multilingual learners, and SEL, to assessment, counseling, and education leadership, our books are research-based and authored by experts on topics most relevant to what educators are facing today.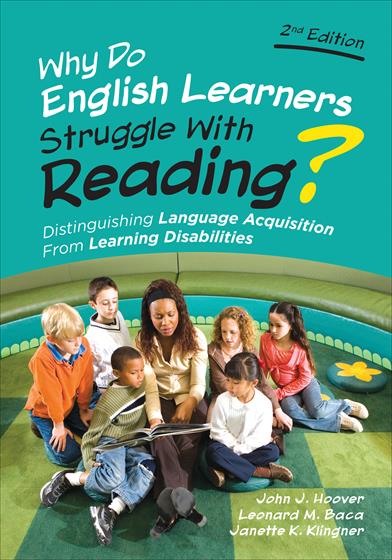 Look Inside
Bestseller!
Why Do English Learners Struggle With Reading?
Distinguishing Language Acquisition From Learning Disabilities
Second Edition

Now in its second edition, this essential guide helps educators make appropriate instructional and eligibility decisions for English Leaners, and includes research-based strategies and techniques.
Product Details
Grade Level: PreK-12
ISBN:

9781506326498

Published By: Corwin
Year:

2016



Page Count: 224

Publication date:

April 07, 2016
Price: $39.95
Description
Make the right instructional and eligibility decisions to help your English Learners!

Do your students' reading difficulties reflect language acquisition issues or a learning disability? Now in an updated second edition, this essential guide helps educators make informed, accurate choices about strategies and services to support English Learners.

Developed for general and special education teachers and service providers, this trusted resource offers a variety of research-based best practices, and includes
Nine common misconceptions that can lead to wrongful placement of students in special education
Theories of second language acquisition
Select evidence-based methods for teaching reading to students learning English
Issues to consider and techniques to use when assessing students for special education and making data-based decisions
Role of cultural influences in reading instruction

Expanded coverage of multi-tiered system of supports (MTSS)
Readers will find helpful vignettes, checklists, and suggestions that support outstanding teaching practices and appropriate, effective use of assessment and referrals.

"This book provides a wealth of information on ELs within the RTI process. The authors provide a number of practical checklists that can be used by any school district. Very few books address the topic as well as this one does."
Jennifer Urbach, Associate Professor
University of Northern Colorado


Key features
New, research-proven methods for distinguishing between language learning difficulties and learning disabilities
Assessment techniques for identifying learning disabilities and measuring proficiency in English as a Second Language
Using

Multi-Tiered System of Supports (MTSS)

in instruction and identifying learning disabilities
Using prereferral intervention with English Language Learners to reduce inappropriate referrals to special education
Instructional aids and "how-to" guides for working with ELL students who are struggling with reading
Table of Contents
Preface
---
Acknowledgments
---
About the Authors
---
Introduction to Second Edition
---
1. Distinguishing Between Language Acquisition and Learning Disabilities Among English Learners: Background Information
2. Multi-Tiered System of Supports (MTSS) and English Learners
3. Misconceptions About the Second Language Acquisition Process
4. Helping Classroom Reading Teachers Distinguish Between Language Acquisition and Learning Disabilities
5. Select Reading Methods for Teaching English Learners
6. Special Education Assessment of ELs
7. Data-Driven Decision Making: Distinguishing Language Acquisition and Cultural Behavior From a Disability
8. Conclusion: Putting the Pieces Together
References
---
Index
---