Hands-on, Practical Guidance for Educators
From math, literacy, equity, multilingual learners, and SEL, to assessment, counseling, and education leadership, our books are research-based and authored by experts on topics most relevant to what educators are facing today.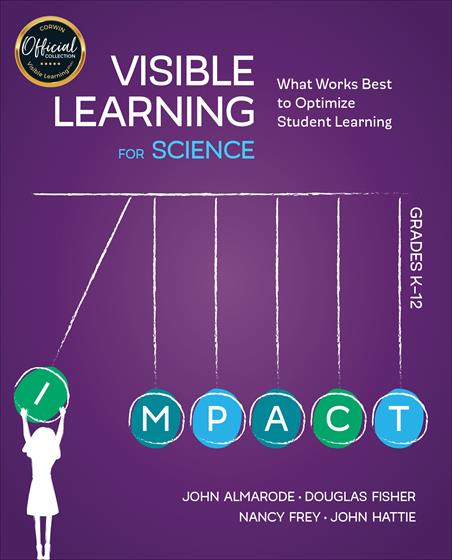 Bestseller!
Visible Learning for Science, Grades K-12
What Works Best to Optimize Student Learning
Discover the right instructional approach to use at each learning phase so all students demonstrate more than a year's worth of science learning per school year.
Product Details
Grade Level: PreK-12
ISBN:

9781506394183

Published By: Corwin
Year:

2018



Page Count: 216

Publication date:

March 09, 2018
Price: $41.95
Description
In the best science classrooms, teachers see learning through the eyes of their students, and students view themselves as explorers. But with so many instructional approaches to choose from—inquiry, laboratory, project-based learning, discovery learning—which is most effective for student success?

In Visible Learning for Science, the authors reveal that it's not which strategy, but when, and plot a vital K-12 framework for choosing the right approach at the right time, depending on where students are within the three phases of learning: surface, deep, and transfer.

Synthesizing state-of-the-art science instruction and assessment with over fifteen years of John Hattie's cornerstone educational research, this framework for maximum learning spans the range of topics in the life and physical sciences. Employing classroom examples from all grade levels, the authors empower teachers to plan, develop, and implement high-impact instruction for each phase of the learning cycle:

Surface learning: when, through precise approaches, students explore science concepts and skills that give way to a deeper exploration of scientific inquiry.

Deep learning: when students engage with data and evidence to uncover relationships between concepts—students think metacognitively, and use knowledge to plan, investigate, and articulate generalizations about scientific connections.

Transfer learning: when students apply knowledge of scientific principles, processes, and relationships to novel contexts, and are able to discern and innovate to solve complex problems.

Visible Learning for Science opens the door to maximum-impact science teaching, so that students demonstrate more than a year's worth of learning for a year spent in school.
Key features
video clips will illustrate the topics in science classrooms at elementary, middle, and high school levels [NEED TO DISCUSS VIDEO]
includes planning tools, rubrics, and templates
includes how-to's for planning pre and post assessments as well as alternate forms of assessment such as PBA
Table of Contents
List of Videos
---
Acknowledgments
---
About the Authors
---
Introduction
---
Chapter 1. Science Learning Made Visible
Visible Learning
Surface, Deep, and Transfer
Challenging Tasks
Science Is More Than Demonstrations and Labs
The Role of Social Skills in Science
Teacher Clarity
Conclusion
Reflection Questions
Chapter 2. Science Surface Learning Made Visible
Surface Learning in Science
Selecting Science Tasks That Promote Surface Learning
Surface Learning in Science Made Visible
Scientific Processes and Thinking
Feedback
Conclusion
Reflection Questions
Chapter 3. Science Deep Learning Made Visible
Deep Learning in Science
Selecting Science Tasks That Promote Deep Learning
Deep Learning in Science Made Visible
Scientific Processes and Thinking
Feedback
Conclusion
Reflection Questions
Chapter 4. Science Transfer Learning Made Visible
Transfer Learning
Types of Transfer: Near and Far
The Paths for Transfer: Low-Road Hugging and High-Road Bridging
Managing Misconceptions
Conditions Necessary for Transfer Learning
Selecting Science Tasks That Promote Transfer Learning
Helping Students Transform Scientific Understanding
Scientific Processes and Thinking
Feedback
Conclusion
Reflection Questions
Chapter 5. Science Learning Made Visible Through Evaluation
Determining Impact
Calculating the Effect Size
Selecting Evaluations That Promote
Response to Intervention in the Science Classroom
Learning From What Doesn't Work
Conclusion
Reflection Questions
References
---
Index
---