Hands-on, Practical Guidance for Educators
From math, literacy, equity, multilingual learners, and SEL, to assessment, counseling, and education leadership, our books are research-based and authored by experts on topics most relevant to what educators are facing today.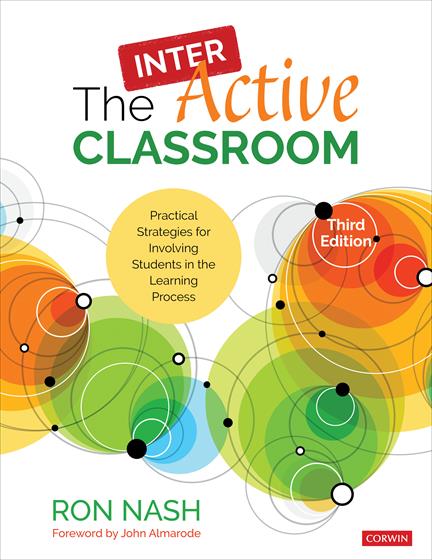 Updated Edition of Bestseller
The InterActive Classroom
Practical Strategies for Involving Students in the Learning Process
Third Edition (Revised Edition)
Foreword by John Almarode

Amplifying knowledge acquisition and student engagement, this text provides strategies for improving presentation skills, enhancing kinesthetic and interpersonal methods, and utilizing brain-based strategies to promote active learning.

Product Details
Grade Level: PreK-12
ISBN:

9781544377711

Published By: Corwin
Year:

2019



Page Count: 168

Publication date:

August 12, 2019
Price: $33.95
Description
Shift Students' Roles from Passive Observers to Active Participants.
Preparing students for a world that did not exist when they were students themselves can be challenging for many teachers. Engaging students, particularly disinterested ones, in the learning process is no easy task, especially when easy access to information is at an all-time high.
How then do educators simultaneously ensure knowledge acquisition and engagement?
Ron Nash encourages teachers to embrace an interactive classroom by rethinking their role as information givers.
The
Interactive Classroom
provides a framework for how to influence the learning process and increase student participation by sharing
•
Proven strategies for improving presentation and facilitation skills
• Kinesthetic, interpersonal, and classroom management methods
•
Brain-based teaching strategies that promote active learning
•
Project-based learning and formative assessment techniques that promote a robust learning environment
Intended to cultivate an interactive classroom in which students take an active role in learning, this book provides a blueprint for educators seeking to amplify student engagement while imparting critical twenty-first century skills.
Key features
New chapters on Project-Based Learning and Formative Assessment
Purchase of this book will become mandatory for training in all consulting work
New artwork throughout book, commissioned by Ron specifically for this project
New Foreword from John Almarode
Focuses on kinesthetic education, interpersonal and classroom management skills, establishing rapport and building relationships between fellow classmates and teachers, and engaging students' active participation in the learning process
A reader-friendly compilation of teaching strategies that are brain-based and promote active learning, interactive learning environments, and the inclusion of all learning modalities
Offers practical, proven strategies for improving presentation and process facilitation skills
Provides a wealth of valuable strategies and activities for enhancing teaching and learning
Explains relevance of ideas and demonstrates practical ways for putting them into action in the classroom or workshop
A "how-to" book for the classroom
Addresses key elements of an interactive classroom
Table of Contents
Foreword by John Almarode
---
Acknowledgments
---
About the Author
---
Unique Features of this Book
---
Introduction
Chapter 1. The Tinkerer's Mindset
Pay It Forward
Some Reflections on Reflecting
What I Did With My Summer Vacation
Getting Better at Getting Better
The Synergy in Collaborative Planning
An Innovative Spirit
Turning Talk Into Action
Chapter 2. Some Assembly Required
When Plans Go Plop
The Work in Working Relationships
Embrace the Motivators
Avoid the Demotivators
Chapter 3. Incorporating Structured Conversations
Making Time to Process New Information
Life in the "Telling" Classroom
The Simultaneity Principle
Working in Pairs
TTYPA (Turn to Your Partner and . . .)
Modeling and Teaching Empathetic Listening
Pausing and Paraphrasing
Chapter 4. Managing Movement in the Classroom
Reimagine Classrooms With Movement in Mind
Getting Both Partners Involved
Paired Verbal Fluency (PVF)
Gallery Walks
Chapter 5. Presenting With Confidence
Presenters and Facilitators
Rapport, Relationships, and Rehearsals
Purposeful Movement
Visuals and Technology
Seek Clarity and Simplicity
Measure Twice, Cut Once
Provide Process Time
Verbal Miscues
The Mighty Pause
Humor
Chapter 6. Let's Be Clear
Do as I Do
High Operational Standards
One at a Time
Remove Barriers to the Message
Clear and Unambiguous Feedback
"Why are we doing this?"
"Who is making the decision here?"
Chapter 7. Making Time to Write
Speaking Supports Writing
Hooking Kids on Writing
Let Students Be Teachers
Learning Logs and Journals
Reflective Blogs
Connecting the Writing to the Writer
Quickwrites
Connecting Speaking With Writing
Confident Writers
Chapter 8. Using Music to Facilitate Process
Music to Support Transitions and Breaks
Music to Enhance Discussions and Support Activities
The Role of Music in Choosing Learning Partners
Choosing Music
Technology
Chapter 9. Unlocking Doors With Storytelling
The Focus Factor
Opening Doors to the Content Material
Ownership Through Questions
It's What They Think That Counts
Chapter 10. Accelerating Progress
The Role of Feedback in the Continuous-Improvement Process
A Clear Picture
Bringing Students Into the Conversation
Checklists and Rubrics
Working the Room
Chapter 11. Behind the Seen
That Whole Groundwork Thing
Finding Time to Reflect and Ask Questions
Challenging Seven Common Assumptions
Final Thoughts
Notes
---
References
---
Index
---
Reviews
This is a carousel with review cards. Use the previous and next buttons to navigate.
"This extraordinary book is unique in two very important ways: Rarely do we find books by someone who has the wisdom of teaching for decades who also truly understands the next generation of students. And rarely do we find a book that spans fun, interactive strategies such as movement with essential methods for improving thinking and writing. New and veteran teachers alike will find countless ideas to continuously improve their teaching practices."



Julie Stern, author of "Tools for Teaching Conceptual Understanding" and developer of the workshop series "Making Sense of Learning Transfer"
"In The InterActive Classroom, Ron Nash draws on his wealth of experience in education and offers useful ideas, strategies, and tools that busy teachers can apply immediately in their classrooms. The suggestions in this book are not only practical, but also based on principles of sound pedagogy. When put into place, they will undoubtedly improve students' experiences in schools."



Jenni Donohoo, Educational Consultant and author of "Collective Efficacy"
"Would you like to unlock the door to active cognitive engagement? No matter what role you find yourself in—teacher, mentor, trainer, and/or facilitator—this book offers a wealth of strategies that will help you become an activator and orchestrator of learning. Ron Nash's proactive approach will not only increase the rate and degree of learning, but also encourage students to take ownership of their own learning. Every toolbox should be filled with these practical and user-friendly strategies!"



Ann Miller, Director of Elementary Instruction and Professional Development
Waynesboro, VA Public Schools
"Ron Nash taught middle and high school for years, and in his own humorous, self-deprecating way, he shares how he overcame his mistakes and recreated himself into a much more effective teacher. The InterActive Classroom is truly an interactive experience. Ron gives examples from his own teaching, then challenges his readers in "Your Turn" sections to implement his ideas and reflect on how teachers can use techniques come Monday morning! This is a book every teacher needs; let Ron be your mentor. Whether you are a beginning teacher or a seasoned veteran, you (and more importantly your students) will benefit for years to come."



Mary Ferrell, Senior Lecturer, Department of Curriculum and Instruction
Appalachian State University, NC
"Ron Nash has given us an extraordinary back-to-school gift! It's obvious his heart and soul are in this project; he shares personal classroom experiences, walk-the-talk demonstration lessons, and coaching. Years of classroom-tested and perfected strategies for involving all kiddos in the learning process highlight the art and craft of teaching from day one through lifelong learning. The book includes a vast repertoire of strategies for energizing learners, organizing a classroom layout, enhancing project-based learning, and much more! Ron structures his research-based work in an easy-to-follow sequence, with Tactical Tips adding proverbial fresh air and wisdom. You will also receive a wealth of resources, reflective questions to involve the reader, and an extensive bibliography and index for further learning. Nash encourages us to be lifelong learners, modeling the joy of learning with brain-compatible activities sure to engage all students! ("Learning is not a spectator sport.") Perfect for the novice or veteran instructor, I'd add the book to all new teacher support programs, university teacher prep, book clubs...You get the idea!"



Rita M. Wirtz, MA, Author of "Reading Champs" and "Stories from a Teacher's Heart"