Hands-on, Practical Guidance for Educators
From math, literacy, equity, multilingual learners, and SEL, to assessment, counseling, and education leadership, our books are research-based and authored by experts on topics most relevant to what educators are facing today.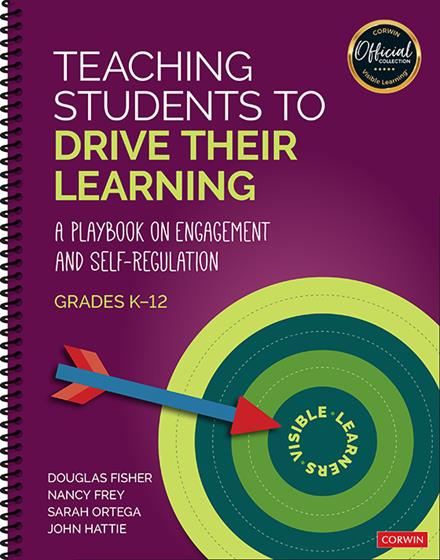 Bestseller!
Teaching Students to Drive Their Learning
A Playbook on Engagement and Self-Regulation, K-12
First Edition

Learners who go-get, goal-set. They risk, productively fail, and ask peers for help. Set up your classroom with all the right conditions to help every student go the distance.
Product Details
Grade Level: PreK-12
ISBN:

9781071918951

Published By: Corwin
Year:

2023



Page Count: 208

Publication date:

May 12, 2023
Price: $29.95
Description
The honest truths, tools, and teaching that lead to student engagement
High levels of engagement—it's not an impossible dream. But to attain it we need to focus on what galvanizes learning, and ensure we are offering the tools and mindsets with which students can lean in. In this playbook, an ace team of educators give us the goods to guide self-starting learners.
Nine modules show us how to:
Cohere standards, success criteria, tasks, and goals so students can travel clear pathways
Offer tools that allow learners to recognize the gap between their current performance and the expected performance, and select strategies to close that gap
Talk with students about engagement as a continuum, and that there are actions they can take to heighten their buy-in to any endeavor
Stress-test our lesson plans to ensure students can discuss, debate, create and problem-solve around highly relevant content
Use lots of low-stakes assessment and feedback routines to develop effective collaboration that doesn't depend on us.
Our job as teachers is to guide learning experiences that build knowledge and self-efficacy. But from there, we need to stay on the sidelines and let students play. Only then will they develop the muscle to persevere, the strategic actions to excel, and the confidence to make our curriculum the springboard of their own dreams and goals.
Table of Contents
Introduction
Module 1: Engagement: From Disrupting to Driving Learning
Module 2: Learners Know their Current Level of Understanding
Module 3: Learners Understand Where They're Going and Have the Confidence to Take on the Challenge
Module 4: Learners Select Tools to Guide Their Learning
Module 5: Learners Monitor Their Progress and Adjust Their Learning
Module 6: Learners Seek Feedback and Recognize that Errors are Opportunities to Learn
Module 7: Learners Recognize their Learning and Teach Others
Module 8: Responding When Students Disengage