Hands-on, Practical Guidance for Educators
From math, literacy, equity, multilingual learners, and SEL, to assessment, counseling, and education leadership, our books are research-based and authored by experts on topics most relevant to what educators are facing today.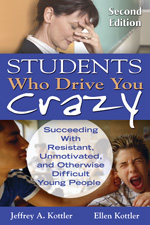 Updated Edition of Bestseller
Students Who Drive You Crazy
Succeeding With Resistant, Unmotivated, and Otherwise Difficult Young People
Second Edition

Discover more strategies for managing difficult students, with new information on aggressive/violent behavior, tips for establishing positive relationships with parents, and more.
Product Details
Grade Level: PreK-12, Elementary, Secondary
ISBN:

9781412965293

Published By: Corwin
Year:

2008



Page Count: 168

Publication date:

August 22, 2008
Price: $31.95
Description
"An absolutely necessary read for educators. The commonsense model assesses and outlines how to respond to challenging students, parents, and colleagues. This work is making a difference in my school."
—Bonnie Tryon, Principal
Golding Elementary School, Cobleskill, NY
Take a proactive approach with your most challenging students!
This second edition of a bestseller gives teachers a model to assess, understand, and respond to challenging students. The book also provides strategies for handling relationships with difficult parents and colleagues.
This fully updated survival guide offers additional strategies to help teachers manage difficult students, including those who break rules and those who are withdrawn, plus new tables and charts and questions for reflection. With real-life scenarios from interviews with teachers, counselors, and school administrators, this volume provides:
More tips for developing active listening skills that improve communication with students and their parents
Suggestions for creating caring communities in the classroom
A new section on dealing with aggressive and violent behavior
Information on understanding parent behavior and suggestions for building positive connections with parents and families
Research from the related disciplines of nursing, social work, psychology, counseling, and family therapy
Use this authoritative handbook to establish healthy, positive relationships with students and maintain a supportive learning environment in the classroom.
Key features
Includes strategies that can help you change your own internal framework when facing students who drive you crazy.
Contains a comprehensive catalog of things that you can do differently to improve your most difficult relationships.

Based on research and literature in education, as well as current practices in the related dis­ciplines of nursing, social work, psychology, counseling, and family therapy.
Table of Contents
Preface
Acknowledgments
About the Authors
1. Why Do Some Students Drive You Crazy?
At a Loss About What to Do
Eye of the Beholder
So, Who Gets to You?
2. Which Students Challenge You Most?
Students From Hell
Profiles of Students Who Are Difficult
Placing Actions in Context
3. Understanding Students' Challenging Behavior
They Are Doing the Best They Can
Additional Functions of Conflict
When Biology Has Its Say
Creating Difficult Students
Multiple Viewpoints
4. What Students Do to Make You Crazy
Separating Students and Behavior
Protecting Yourself
Pushing Our Buttons
How Failure Helps
Engaging the Challenging Student
Recognizing Your Limitations
Don't Take the Conflict Personally
It Comes With the Territory
5. Changing Your Own Behavior
Detachment Without Withdrawal
Talking to Yourself
Processing Disappointments Internally
Stop Complaining
Keeping Your Sense of Humor
Recognizing Accomplishments and Strengths
Reframing Problems
Being Flexible
Seeking Support
Help Yourself First
6. Strategies for Changing Students' Behavior
Some Rules of Engagement
Develop a Sense of Community
Use Counseling Skills
Collaborate With Others
Brief Interventions
Develop Alternate Perspectives
7. Parents and Colleagues Who Drive You Crazy
The Least of Our Problems
Teachers Who Don't Understand
Administrators Who Handcuff Us
Parents Who Fight Us
What About You?
Those Who Abuse You
8. Preventing Future Problems
Proactive Versus Reactive Strategies
Paying Attention to Feedback
Teacher Strategies That Maintain Momentum
Conflict Resolution
In Summary
References and Suggested Readings
Index