Hands-on, Practical Guidance for Educators
From math, literacy, equity, multilingual learners, and SEL, to assessment, counseling, and education leadership, our books are research-based and authored by experts on topics most relevant to what educators are facing today.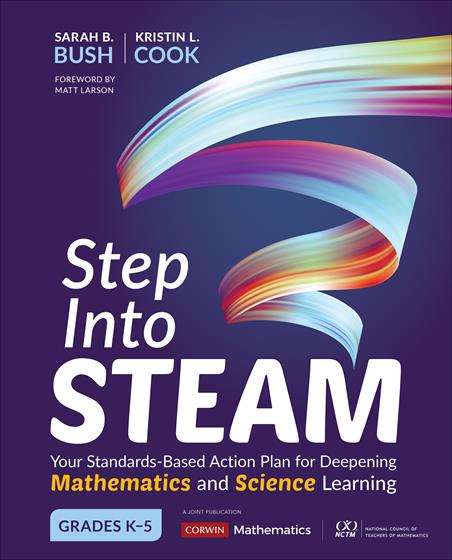 Step Into STEAM, Grades K-5
Your Standards-Based Action Plan for Deepening Mathematics and Science Learning
First Edition
Foreword by Matt Larson

Build cohesive and sustainable STEAM infrastructures—grounded in grade-level standards and purposeful assessment—to deepen the mathematics and science learning of each and every student.
Product Details
Grade Level: PreK-12
ISBN:

9781544337203

Published By: Corwin
Series: Corwin Mathematics Series
Year:

2019



Page Count: 232

Publication date:

March 27, 2019
Price: $35.95
Description
How do you create an innovative and equitable classroom experience that prepares elementary students for jobs that don't yet exist while placing a critical focus on mathematics and science content and practice standards—all while meeting the demands of high-stakes testing? The answer to this question is Step into STEAM, which provides a practical and accessible approach for educators to create meaningful and transformative learning experiences for each and every student.

This book guides and inspires K–5 educators through a seamless process of designing and implementing STEAM inquiries that align carefully to key mathematics and science content and practices. Taking an opposite approach to existing resources that provide collections of disjointed STEAM activities, this book empowers teachers and schools to build cohesive and sustainable STEAM infrastructures—grounded in grade-level standards and purposeful assessment—to deepen the mathematics and science learning of each and every student. STEAM instruction is for each and every student; STEAM instruction is about mathematics; and STEAM instruction can and should be implemented for student success and to engage students in making their community and our world a better place.

Loaded with resources to help K–5 teachers and instructional leaders develop, implement, and assess meaningful STEAM inquiries, this research-based book:
Provides practical, on-the-go resources to help busy teachers get started in creating purpose-driven STEAM instruction
Allows educators to interact deeply with the content and create equitable STEAM experiences that blend community and societal interests
Includes online companion printable resources to help educators jumpstart or deepen STEAM learning throughout a school or district, supporting STEAM professional development, professional learning communities, and book studies
Checklists, pictures, graphic organizers, reflection questions, "Try it Out!" sections, and example STEAM inquiries help teachers seamlessly connect multiple subject areas, create transformative learning experiences, engage elementary students in developing creativity and empathy, and enable students to solve meaningful and authentic problems for others—all to prepare students for their bright futures. Make the most of your limited instructional time and become part of the Step into STEAM movement!

"Through carefully crafted research-based frameworks; inspirational, authentic, and approachable practical strategies rooted in the reform efforts of student-centered STEAM learning; and opportunities for professional self-reflection, Step into STEAM rightfully re-elevates educators to their proper places as innovation experts and agents of change in their own classrooms, schools, districts, and communities. An inspirational step in a needed direction, this book from Drs. Bush and Cook is what educators have been craving: a guide to transforming ourselves, our learning spaces, and our profession."
Richard Cox, Jr.
Expert STEAM Teacher
Instructional Coach
Bullitt County Public Schools

"Step into STEAM offers a rare opportunity for anyone concerned with education to consider what learning would be like with equity, empathy, and experience. By providing examples from teachers who have dared to put children first, this book offers more than just new way to teach, it offers hope for youth today. By considering what youth will need to be successful in jobs that are not yet created, Cook and Bush provide a platform for educators to create authentic, real-world problem-solving in classrooms with attention on the often forgotten about component of STEAM—the M! As a proponent of STEAM education, my recommendation is to grab this book and watch your students love learning again!"
Cassie Quigley
Associate Professor of Science Education at University of Pittsburgh
Author of An Educator's Guide to STEAM: Engaging Students Using Real-World Problems


Key features
Includes:
Core STEAM ideas, teaching takeaways, and classroom-tested examples
Pause and Reflect and Try It Out! sections
Companion website contains downloadable and editable checklists, tools, and a STEAM Inquiry Planning Guide
Table of Contents
Preface
---
Foreword
---
Acknowledgements
---
Part 1: The STEAM Landscape
---
Chapter 1: What is STEAM and Why does it Matter?
Chapter 2: How do I Prepare for STEAM?
Chapter 3: What Frameworks Can Guide How I Engage Students in STEAM?
Part 2: Stepping into STEAM
---
Chapter 4: How do I Design STEAM Inquiries?
Chapter 5: How do I Implement STEAM Inquiries?
Chapter 6: How do I Assess my Students' Learning in STEAM?
Part 3: Putting it all Together in STEAM
---
Chapter 7: What are Some Examples of Successful STEAM Inquiries?
Chapter 8: How do I Tie It All Together to Create the STEAM Learning Experience?
Chapter 9: How do I Gather Resources for STEAM?
Call to Action
Appendices
---
References
---