Hands-on, Practical Guidance for Educators
From math, literacy, equity, multilingual learners, and SEL, to assessment, counseling, and education leadership, our books are research-based and authored by experts on topics most relevant to what educators are facing today.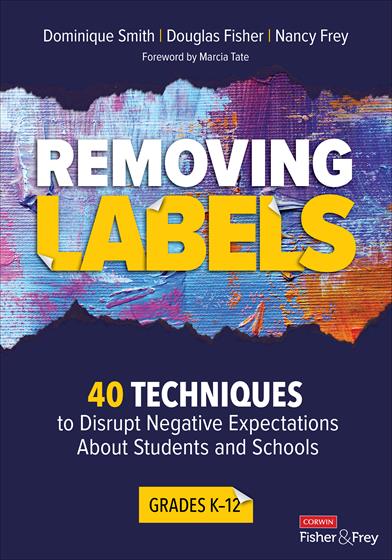 Look Inside
Bestseller!
Removing Labels, Grades K-12
40 Techniques to Disrupt Negative Expectations About Students and Schools
Disrupt the cycle of implicit bias and stereotype threat with 40 research-based, teacher-tested techniques; individual, classroom-based, and schoolwide actions; printables; and ready-to-go tools for planning and instruction.
Product Details
Grade Level: PreK-12
ISBN:

9781544398174

Published By: Corwin
Series: Corwin Literacy
Year:

2021



Page Count: 240

Publication date:

February 05, 2021
Price: $26.95
Description
Disrupting the cycle starts with you.

No matter how conscientious we are, we carry implicit bias… which quickly turns into assumptions and then labels. Labels define our interactions with and expectations of students. Labels contribute to student identity and agency. And labels can have a negative effect beyond the classroom.

It's crucial, then, that teachers remove labels and focus on students' strengths—but this takes real work at an individual, classroom, and schoolwide scale.

Removing Labels urges you to take an active approach toward disrupting the negative effects of labels and assumptions that interfere with student learning. This book offers:
40 practical, replicable teaching techniques—all based in research and best practice—that focus on building relationships, restructuring classroom engagement and management, and understanding the power of social and emotional learning
Suggestions for actions on an individual, classroom, and schoolwide level
Ready-to-go tools and student-facing printables to use in planning and instruction
Removing Labels is more than a collection of teaching strategies—it's a commitment to providing truly responsive education that serves all children. When you and your colleagues take action to prevent negative labels from taking hold, the whole community benefits.
Table of Contents
Foreword
---
Publisher's Acknowledgments
---
Introduction: Interrupting the Cycle Begins With You
Section 1. Individual Approaches
Technique 1. Learning Names the Right Way
Technique 2. Interest Surveys
Technique 3. Banking Time
Technique 4. 2 × 10 Conversations
Technique 5. Affective Statements
Technique 6. Impromptu Conferences
Technique 7. Empathetic Feedback
Technique 8. Reconnecting After an Absence
Technique 9. Labeling Emotions
Technique 10. Solving Problems (Do the Next Right Thing)
Section 2. Classroom Approaches
Technique 11. Creating a Welcoming Classroom Climate
Technique 12. Class Meetings
Technique 13. Classroom Sociograms
Technique 14. The Mask Activity
Technique 15. Asset Mapping
Technique 16. Peer Partnerships
Technique 17. Five Different Peer Partnerships
Technique 18. Self-Assessment in Collaborative Learning
Technique 19. Equitable Grouping Strategies
Technique 20. Gradual Release of Responsibility Instructional Framework
Technique 21. Teaching With Relevance in Mind
Technique 22. Jigsaw
Technique 23. Accountable Talk
Technique 24. Making Decisions
Technique 25. Alternatives to Public Humiliation
Technique 26. When Young Children Label Others—The Crumple Doll
Technique 27. When Older Students Label Others—Insults and Epithets
Technique 28. Trauma-Sensitive Classroom Design
Technique 29. The Dot Inventory
Technique 30. Culturally Sustaining Pedagogies
Technique 31. Schoolwide Inclusive Practices
Technique 32. Student Empowerment
Technique 33. Collective Responsibility
Technique 34. Recognizing and Responding to Implicit Bias
Technique 35. Racial Autobiography
Technique 36. Social Capital
Technique 37. A Welcoming Front Office
Technique 38. Community Ambassadors
Technique 39. The Master Schedule
Technique 40. Distributed Leadership
Coda
---
References
---
Index
---