Hands-on, Practical Guidance for Educators
From math, literacy, equity, multilingual learners, and SEL, to assessment, counseling, and education leadership, our books are research-based and authored by experts on topics most relevant to what educators are facing today.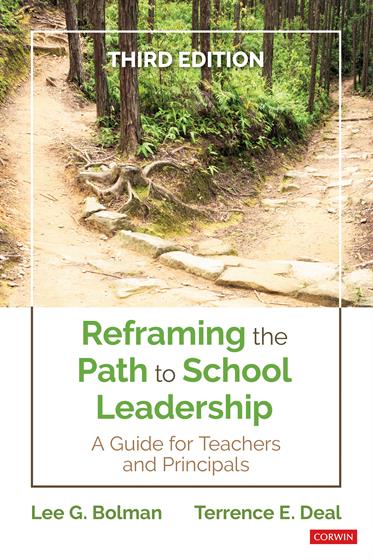 Look Inside
Bestseller!
Reframing the Path to School Leadership
A Guide for Teachers and Principals
Third Edition

The third edition of the best-seller features new discussion of morale, current standards and rubrics, alternatives to top-down mandates, and hope, faith, and parental involvement.
Product Details
Grade Level: PreK-12
ISBN:

9781544338613

Published By: Corwin
Year:

2018



Page Count: 208

Publication date:

October 10, 2018
Price: $39.95
Description
The indispensable leadership companion—updated and more relevant than ever!


Part leadership manual, part short novel, this unique best-seller uses dialogues between a novice and a master teacher and between a new and a seasoned principal to illuminate how the simple act of viewing a problem through different lenses—political, human resources, structural, or symbolic—can reveal better options and solutions.

Featuring reflective questions and solid strategies for meeting real-life challenges, the third edition also includes
New views on building morale in challenging times

A revamped discussion of mandates, standards, and rubrics

A celebration of educators as skilled professionals

Expanded conversations about hope, faith, and parental involvement
Sometimes all it takes to solve a problem is to reframe it by listening to wise advice from a trusted mentor.
Key features
Uses storytelling to illustrate the mental tools necessary for decoding the confusing and messy terrain of everyday life in schools
Provides an optimistic view of what can go right in schools, i.e., positive potential for classroom and school leadership—even within the context of today's climate of heightened accountability
Covers the challenges faced by new and seasoned teachers and principals in achieving a balance between their personal and professional lives
Includes stories that look at schools through four key frames: a political frame, to consider how individuals and groups jockey for power and work with limited resources; a human resource frame, to highlight the importance of individual needs and motives; a structural frame, to examine the importance of clear goals and roles; and a symbolic frame, to explore the importance of culture, meaning, belief, and faith within the school.
Provides Leadership Lessons, Reflections, and Applications at the end of each chapter to encourage further thought and action on the lessons within each interwoven story
Table of Contents
Acknowledgments
---
About the Authors
---
Introduction
---
PART I: A PAIR OF ROOKIES
---
1. A New Teacher's First Day
2. Getting Off on the Wrong Foot
3. Newcomers Find Wise Friends
Leadership Lessons I: Seeing and Solving Entry Barriers
PART II: THE POLITICAL GA
---
4. The Old Guard and New Principal
5. The Inclusion Wars: School Politics
Leadership Lessons II: Mapping and Mastering the Political Terrain
PART III: THE HUMAN RESOURCE LENS
---
6. Sagging Morale
Leadership Lessons III: Build Relationships and Empower Yourself
PART IV: THE STRUCTURAL FRAME
---
7. Student Discipline: Who's Really in Charge?
8. Standards and Rubrics
Leadership Lessons IV: Align Structure With the Work
PART V: THE SYMBOLIC FRAME: BELIEVING IS SEEING
---
9. Changing the Guard
10. Building Confidence and Faith
11. "I'm Just a Great Teacher!"
Leadership Lessons V: Celebrate Values and Culture
PART VI: VALUES, ETHICS, AND SPIRIT
---
12. Teaching and Leading: Finding a Balance
13. It's All About Values and Beliefs
Leadership Lessons VI: Problems and Dilemmas
PART VII: THE CYCLE CONTINUES
---
14. The Essence of Teaching: Leaving a Legacy
15. Loss . . . and Celebration
16. Passing the Torch
Leadership Lessons VII: The Enduring Sequence
References
---
Further Reading
---