Hands-on, Practical Guidance for Educators
From math, literacy, equity, multilingual learners, and SEL, to assessment, counseling, and education leadership, our books are research-based and authored by experts on topics most relevant to what educators are facing today.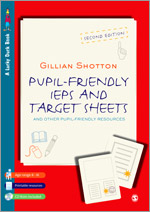 Look Inside
Pupil Friendly IEPs and Target Sheets
And Other Pupil-Friendly Resources
Second Edition

Product Details
Grade Level: PreK-12
ISBN:

9781848600096

Published By: SAGE Publications Ltd
Series: Lucky Duck Books
Year:

2009



Page Count: 104

Publication date:

October 02, 2009
Price: $80
Description
Involving children in discussing, planning and reviewing their targets for learning and behaviour is a key element of Every Child Matters (2003) and the Children's Plan (2007). This new edition of Gillian Shotton's best selling book, has been updated to include new templates for teachers looking to involve children in writing their Individual Education Plan (IEP), as well as the introduction of target sheets applicable for all primary and secondary students. The resource provides a useful tool for helping teachers put some of the Assessment for Learning strategies into practice.
Features of the new edition include:
- IEP templates with brand new illustrations
- Pupil-friendly target sheets to engage learners in the target setting process
- A Pupil Friendly Pastoral Support Programme developed specifically for secondary aged pupils
- An Act of Kindness log to encourage and record positive acts in the classroom
The accompanying CD Rom provides easy-to-use, engaging and fun templates which allow teachers to truly involve pupils in the planning and reviewing process. These resources can either be printed off as resource sheets to be filled in and coloured in by hand, or they can be filled in on-screen.
Table of Contents
Introduction
Why Involve the Child?
Pupil Friendly Target Sheets
Template 1: Dinosaur Long Term Target Sheet
Template 2: Animals Long Term Target Sheet
Template 3: Fish Long Term Target Sheet
Template 4: Skateboard Long Term Target Sheet
Template 5: Football Long Term Target Sheet 1
Template 6: Football Long Term Target Sheet 2
Template 7: KS4 Long Term Target Sheet 1
Template 8: KS4 Long Term Target Sheet 2
Template 9: Dinosaur Short Term Target Sheet
Template 10: Animals Short Term Target Sheet
Template 11: Fish Short Term Target Sheet
Template 12: Skateboard Short Term Target Sheet
Template 13: Football Short Term Target Sheet 1
Template 14: Football Short Term Target Sheet 2
Template 15: KS4 Short Term Target Sheet 1
Template 16: KS4 Short Term Target Sheet 2
Pupil Friendly Individual Education Plans (IEPs)
A Script for Writing an IEP for Learning with a Pupil
A script for writing an IEP for behaviour with a pupil
Template 17: Example of a completed IEP for learning
Template 18: Example of a completed IEP for behaviour
Template 19: Animal IEP
Template 20: Sporty Girl IEP
Template 21: Football IEP
Template 22: Dinosaur IEP
Template 23: Fish IEP
Template 24: Robot IEP
Template 25: Border 1 IEP
Template 26: Border 2 IEP
Template 27: Border 3 IEP
Pastoral Friendly Pastoral Support Programmes (PSPs)
---
Template 28: Pastoral Support Programmes
Acts of Kindness
---
Template 29: Acts of Kindness Log
Helping pupils see their progress
---
References
---