Hands-on, Practical Guidance for Educators
From math, literacy, equity, multilingual learners, and SEL, to assessment, counseling, and education leadership, our books are research-based and authored by experts on topics most relevant to what educators are facing today.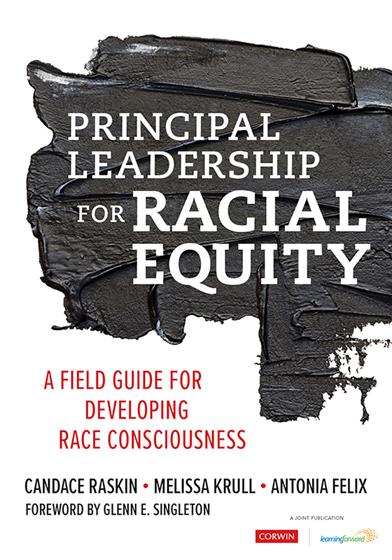 Bestseller!
Principal Leadership for Racial Equity
A Field Guide for Developing Race Consciousness
Foreword by Glenn E. Singleton
A Joint Publication with Learning Forward

The research-based materials and diverse voices in this guide will develop principals into racially conscious leaders and transform schools into equitable learning environments for all students.
Product Details
Grade Level: PreK-12
ISBN:

9781071803820

Published By: Corwin
Year:

2021



Page Count: 248

Publication date:

April 05, 2021
Price: $40.95
Description
Enhance your capacity for antiracist leadership!

The COVID 19 pandemic has illuminated deep-seated structural inequities in our schools and across society. More than ever, education leaders are being challenged to take action to disrupt the institutional racism that undergirds many of our longstanding policies and practices. Our students are challenging us to step up and be antiracists who commit to the uncompromising belief all children can learn and deserve an exceptional education. Based on 10 years of work leading the Institute for Courageous Principal Leadership, this book guides leaders to expanding their racial consciousness through self-reflection and provides the tools they need to counter implicit bias and respond to resistance. Grounded in research, but written in practitioner-friendly language, this book:
•
Focuses on systemic leadership and institutional failures as the source of predictable student outcomes
•
Leverages research and theory to create a process for principals to build racially equitable practices
•
Navigates the politics of leadership without compromising student achievement
The practical lessons and strategies in this book will equip you with the skills to implement the leadership and actions that must be taken to confront the reality of systemic racism in education and transform schools into learning environments with a student-centered commitment to high achievement for every learner.
Table of Contents
List of Figures
---
Foreword
---
Acknowledgments
---
About the Authors
---
Introduction
---
Part I. Developing Racial Consciousness
---
Chapter 1. Developing Myself as a Racially Conscious Leader
Chapter 2. Discovering My "Why"
Chapter 3. Research Reality Check
Chapter 4. Racism at Work
Chapter 5. Understanding My School/District
Part II. Integrating Knowledge Into Practice
---
Chapter 6. A Principal's Critical Duty
Chapter 7. Ensuring Racially Conscious Pedagogy
Chapter 8. The State of Things
Chapter 9. Good Trouble
Index
---
Learning from Mentors: Living the Theory of Action by Josh Fraser
---
Learning from Mentors: Living the Theory of Action by Kirk Morris
---
Learning from Mentors: Responding to Disaster by Isabel Rodriguez
---
Learning from Mentors: The Value of Racial Affinity Groups by Nan Yurecko
---
Learning from Mentors: Instruction that Supports Student Pride, Place, and Potential by Nasreen Fynewever
---
Learning from Mentors: Looking in the Mirror: Michael Walker's Advice to Principals by Michael Walker
---
Learning from Mentors: Transforming Instruction by Silvy Un Lafayette and Jessica Busse
---