Hands-on, Practical Guidance for Educators
From math, literacy, equity, multilingual learners, and SEL, to assessment, counseling, and education leadership, our books are research-based and authored by experts on topics most relevant to what educators are facing today.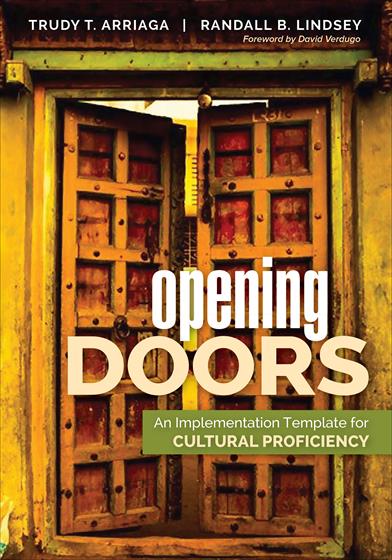 Look Inside
Bestseller!
Opening Doors
An Implementation Template for Cultural Proficiency
Foreword by David Verdugo

This book presents an in-depth case study of a school district that achieved true integration with cultural proficiency techniques, and how all educators can implement its lessons.
Product Details
Grade Level: PreK-12
ISBN:

9781483388793

Published By: Corwin
Year:

2016



Page Count: 152

Publication date:

January 08, 2016
Price: $34.95
Description
See how one school district made Cultural Proficiency real—and how you can too!

In spite of Brown vs. Board of Education, true integration and corresponding equality of educational opportunity is still far from reality in American schools.

Opening Doors tells the story of Ventura Unified School District's successful implementation of cultural proficiency, which opened long-closed doors for marginalized students and returned gains on every key success metric. Most importantly, it will empower you to do the same for your school or district. Resources include:
A method for evaluating the impact of educational decisions on students' access to learning
A clear three-year implementation plan for making your school culturally proficient
A content-rich companion website that includes templates and forms for implementing the book's suggestions
It is long past time to make cultural proficiency real by ensuring universally equal access to educational resources for all students. This book removes the remaining barriers to the achievement of this ideal.
"This powerfully insightful and thought provoking book, takes us on a journey to culturally proficient actions."
—Rosemary Papa, Professor
Northern Arizona University

"The book is full of compassion, conviction and hope—pure heart, pure corazón—in the quest to tackle inequality and the opportunity gap head on."
—Gilberto Q. Conchas, Professor of Educational Policy and Social Context
University of California, Irvine


Key features
(1) Provides education leaders with a template for implementing Cultural Proficiency across an entire district or school.
(2) Provides a method for evaluating the impact of educational decisions on students' access to learning.
(3) Offers an explicit case study of a large, diverse school district that has successfully implemented Cultural Profiency to benefit all students including those who have been marginalized.
(4) Includes a range of activities and processes to inform professional development for personal growth as well as activities and processes to inform policy analysis and development that supports districts and schools that commit to doing what is necessary to educate all children
in safe and healthy schools.

(5) Companion web site includes templates and reproducibles for use in PD.
Table of Contents
Dedication
---
Acknowledgment
---
Publisher's Acknowledgments
---
Foreword
---
About the Authors
---
Prologue
---
Chapter 1 – What Frames Us, Defines Us
Getting Centered
Going Deeper
Chapter 2 - Culturally Proficient Leadership Fosters Transformative Change
Getting Centered
Going Deeper
Chapter 3 – Change Begins with Core Value and Belief Statements
Getting Centered
Going Deeper
Activity 3.1 – Can You Believe?
Activity 3.2 – Walking Forward Part I
Chapter 4 – Yes, We Actually Live Our Values
Getting Centered
Going Deeper
Activity 4.1 – Walking Forward Part II
Activity 4.2 – I Am Activity
Chapter 5 – Continuous Learning Involves Deconstructing our Learning
Getting Centered
Going Deeper
Activity 5.1 - The Power of Us
Activity 5.2 – Opening Doors for Students – Do Our Actions Reflect Our Values? Part 1
Activity 5.3 – Opening Doors for Students – To What Extent are We Escorting Students Through the Doors? Part 2
Activity 5.4 – Data that Demonstrates Areas of Need
Activity 5.5 – Book Club
Epilogue
---
Resources
---
Resource A – Book Study Guide
Resource B - Cultural Proficiency Books' Essential Questions
Resource C – 3-Year Implementation Journey
Resource D – A Cultural Proficiency Implementation Model
References
---