Hands-on, Practical Guidance for Educators
From math, literacy, equity, multilingual learners, and SEL, to assessment, counseling, and education leadership, our books are research-based and authored by experts on topics most relevant to what educators are facing today.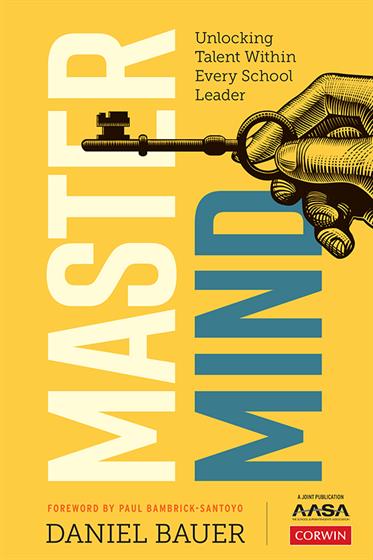 Look Inside
Bestseller!
Mastermind
Unlocking Talent Within Every School Leader
First Edition
Foreword by Paul Bambrick-Santoyo
A Joint Publication with AASA, The School Superintendents Association

Master this age-old and proven strategic advantage, show up as the leader you were meant to be and guide your teams toward new levels of accomplishment.
Product Details
Grade Level: PreK-12
ISBN:

9781071837085

Published By: Corwin
Year:

2021



Page Count: 264

Publication date:

October 12, 2021
Price: $26.95
Description
The secret behind limitless leadership impact
Lack of mentorship and coaching is a leading reason for leader attrition in education, but it doesn't have to be this way. If it's true that "Everyone wins when the leader gets better," then your community is counting on you to prioritize your own professional growth – so that YOU get better.
In Mastermind: Unlocking Talent Within Every School Leader, Daniel Bauer – highly sought-after coach and mentor to thousands of school leaders –  introduces readers to a strategic advantage relied on by business leaders since the 1930s. The mastermind is an exceptional PD model for leaders looking to level up – and if this advantage worked for people like Andrew Carnegie, Henry Ford, and FDR, what could it do for you and your school? Framed around the ABCs of Powerful Professional DevelopmentTM, this book will provide school leaders with:
Templates and tools for starting and running successful mastermind groups
Protocols to encourage collaboration, dialogue, and problem solving so school leaders can work together to overcome challenges
Stories of impact from education mastermind participants all over the world
The question is – what would you be able to accomplish within your school if you showed up this year as the leader you were meant to be?
Table of Contents
Foreword
---
Acknowledgments
---
About the Author
---
Introduction
Alarming Trends
What Successful People Do
The Origins of the Mastermind
My Mastermind Origin Story
What You'll Find in This Book
Ichi-go Ichi-e
Part I
---
Chapter 1. The Problem With PD
Inauthenticity
Isolation
Missed Opportunities
Chapter 1 Reflection Questions
Chapter 2. The Solution
Mastermind Snapshot
The Ideal Member
The Model
Chapter 2 Reflection Questions
Part II
---
Chapter 3. Authenticity
Safety
Self-awareness
Values-Driven
Chapter 3 Reflection Questions
Chapter 4. Belonging
Shared Purpose
Inclusive Environments
Trust
Chapter 4 Reflection Questions
Chapter 5. Challenge
Mindset
Taking Action
Powerful Community
Chapter 5 Reflection Questions
Conclusion
The Only Game Worth Playing
A Brief Look Back
An Invitation
Resources
---
Reference List
---
Index
---