Hands-on, Practical Guidance for Educators
From math, literacy, equity, multilingual learners, and SEL, to assessment, counseling, and education leadership, our books are research-based and authored by experts on topics most relevant to what educators are facing today.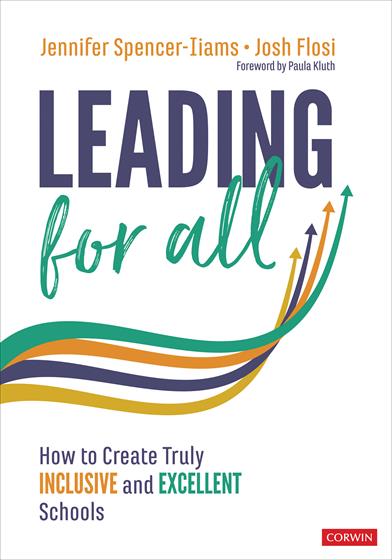 Look Inside
Leading for All
How to Create Truly Inclusive and Excellent Schools
Leading for All is a practical guide that provides a clear pathway for educators to develop a more inclusive school community from start to finish.
Product Details
Grade Level: PreK-12
ISBN:

9781071827925

Published By: Corwin
Year:

2020



Page Count: 224

Publication date:

November 12, 2020
Price: $39.95
Description
Develop inclusive and equitable school communities where all learners thrive
Research has shown that inclusive education results in better academic outcomes for ALL students, not just those identified with disabilities, by promoting self-efficacy, improving social and emotional health, and consistently implementing research-based instructional strategies. Still, many schools rely on deeply ingrained, segregated practices that fail to serve all students.
Leading for All is a practical guide that provides a clear pathway for educators to develop a more inclusive school community from start to finish. Authors Jennifer Spencer-Iiams and Josh Flosi share lessons learned from spending nearly a decade building district schools where all students are served in their neighborhood school and in classrooms with their general education peers.
Features include:
Three focus areas to guide change: Creating Inclusive Cultures, Improving Instructional Practices, and Increasing Student Voice
7 Components of Inclusive and Equitable Learning Communities
Supporting resources for promoting inclusion throughout the school day, including co-curricular activities and transportation
Stories of real students and teachers and the actions that impacted their success
Educators and school leaders want to create inclusive and excellent educational experiences for all students, but they do not always know how to proceed. Leading for All provides a model, stories, strategies, and clear evidence that it can be done effectively.
Table of Contents
Foreword by Paula Kluth
---
Acknowledgments
---
About the Authors
---
Introduction
---
Chapter 1 - Finding Our Why
Why Inclusion?
Academic Research Supports Inclusion
Inclusion and the Whole-Child Movement
Equity and Social Justice
The Perspective of Families
Moving from Why to Why Not?
References
Chapter 2 - What We Mean by Inclusive Education
A Continuum of Inclusive Practices
A Summary of Changes Over the Past Eight Years
What Inclusion Looks Like
References
Chapter 3 - The Foundations of Inclusive Education
Putting Our Goals on Paper
Guiding Principles for Our Work
Kortney's Story
References
Chapter 4 - Creating Inclusive Cultures
True Friendships
Providing Supports in the General Education Classroom
Shared Ownership and Co-Teaching
The Power of Language
All Students Participate in Cocurricular Activities
References
Chapter 5 - Improving Instructional Practices
Frameworks that Guide our Instructional Practices
Learning Targets
Engagement Strategies
Access to Grade-Level Content
Common and Consistent Data
Analyzing Data to Inform Instruction
Purpose of Evaluation
References
Chapter 6 - The Components of Inclusive and Equitable Learning Communities
Effective Physical Spaces
Teaching Common Expectations
Rituals, Routines, and Recognition
Engagement Strategies for All Students
Teaching Social-Emotional Skills
Restorative Practices
Relationships with High Expectations
References
Chapter 7 - Increasing Student Voice
Growth Mindset Revisited
Student Voice and Behavior
Augmentative and Alternative Communication
Students as Leaders of Change
Students and Their IEPs
References
Chapter 8 - Supporting Behavior in Inclusive Schools
All-Some-Few Thinking
Team "Student"
The Intensive Capacity-Building Team
Thinking Inclusively About Outside Placement
References
Chapter 9 - Leadership Moves to Make it Happen
Communication and Relationships
The Role of the Central Office
Salary Structures, Job Descriptions, and Union Contracts to Support Inclusive Practices
Structures for Professional Learning that Support Inclusive Practices
Structures for Leadership and Stakeholder Input
Partnerships with Other Districts and Outside Organizations
Closing Thoughts about Leadership Moves
References
Chapter 10 - What's Next?
Transportation
Inclusive Early-Childhood Education
Adult Transition Services and Inclusive College Opportunities
Inclusive Teacher Education
The Mental Health System
Inclusive Practices in the Time of Distance Learning and COVID-19
Closing Thoughts
References
Index
---