Hands-on, Practical Guidance for Educators
From math, literacy, equity, multilingual learners, and SEL, to assessment, counseling, and education leadership, our books are research-based and authored by experts on topics most relevant to what educators are facing today.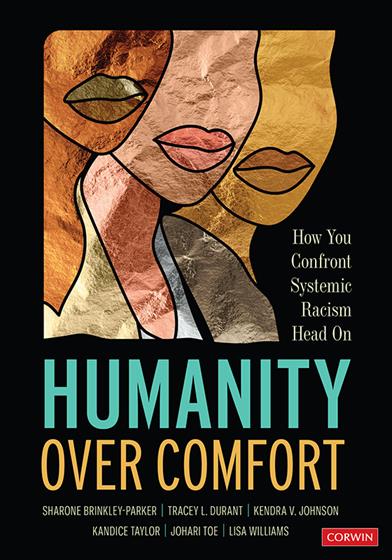 Look Inside
Humanity Over Comfort
How You Confront Systemic Racism Head On
Product Details
Grade Level: PreK-12
ISBN:

9781071847916

Published By: Corwin
Year:

2021



Page Count: 160

Publication date:

October 29, 2021
Price: $32.95
Description
Increase your racial equity capacity for transformational change
The years 2020 - 2021 will be remembered for COVID-19 and racial injustice. COVID illuminated long-standing structural inequities. Increased media focus on police brutality helped fuel a protest movement that underscored the urgency of the moment. In schools, non-profits, and various business sectors, conversations about race and institutional racism are becoming increasingly common. However, most of these conversations are performative and do little to disrupt the status quo. The authors of Humanity Over Comfort aim to move beyond the transactional response of using only conversations to respond to structural inequalities. Alternatively, the authors advance tools that promote transformational change that eliminates the access and opportunity gaps for Black and Brown individuals. Written to cultivate awareness that increases racial equity capacity, this book will help readers
Understand historical context and the influence of racism in shaping reality
Engage in reflections that connect learning to personal experience 
Understand the Conscious Anti-Racist Engendering Framework (CARE), which draws from adult learning theory to build community in organizations
Leverage one's span of control to implement practices that incrementally work to dismantle systems of oppressions
Direct their increased capacity towards dismantling racially predictable policies and practices
Transactional responses to racism perpetuate marginalizing narratives and outcomes and do little to support the humanity of a community, including White members. This book will guide readers towards transformational change to build a system that supports the restoration of our collective humanity.
Table of Contents
Acknowledgments
---
About the Authors
---
How to Use This Book
---
Part I: Beginning the Journey - The Reflecting Space
---
Chapter 1: Race Matters Because Racism Does
Chapter 2: Building Community by Reimagining New Possibilities
Chapter 3: Confronting Blame by Reframing Accountability
Part II: Leaning Into the Learning - The Making Meaning Space
---
Chapter 4: Power and Influence
Chapter 5: Invisibility and Other Barriers to Engaging in the Work of Anti-Racism and Structural Transformation
Part III: Curating Transformation - The Doing Space
---
Chapter 6: Creating Space for Productive Struggle
Chapter 7: Application of Equity Lens for System Change
Chapter 8: Building to Transformation Through Collective Application
Chapter 9: Final Thoughts
References
---
Index
---