Hands-on, Practical Guidance for Educators
From math, literacy, equity, multilingual learners, and SEL, to assessment, counseling, and education leadership, our books are research-based and authored by experts on topics most relevant to what educators are facing today.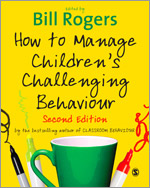 Look Inside
Bestseller!
How to Manage Children's Challenging Behaviour
Second Edition

Product Details
Grade Level: PreK-12
ISBN:

9781848606852

Published By: SAGE Publications Ltd
Year:

2009



Page Count: 208

Publication date:

August 19, 2009
Price: $51
Description
Praise for the first edition
'Bill's message is clear and consistent, building on all that has gone before. His methods are trialled and tested - good stuff' - Ray Kingdon, Education & Training, University of Wales, Newport
In this new edition of a bestselling book, Bill Rogers brings together contributions from practising teachers that suggest ways to tackle very challenging behaviour in schools such as bullying, violence and behaviour disorders. All teachers face similar disruptions in the classroom, such as calling out and interrupting, but this book addresses the more serious issues.
Bill introduces and comments on each chapter, setting out his key principles for behaviour leadership in the style that makes him such a popular author.
There are numerous case studies drawn from practice, in each case showing how the teacher managed the situation and what the outcome was, and these examples from practice highlight the difference teachers can make to their students' behaviour, attitude, self-esteem and peer acceptance. Chapters look at: finding a way back from inappropriate behaviour; dealing with challenging behaviour day after day; creating a peaceful school; focusing on the positives; the importance of the teacher-pupil relationship; taking an holistic view of the child, and how this helps reduce disruptive behaviour.
New material in this book includes:
- new case studies;
- analysis of actions taken and skills used when managing poor behaviour;
- a new section on working with parents;
- Questions for Reflection, to encourage discussion with colleagues.
The direct, practical and inspirational nature of these accounts will resonate with all teachers and school support staff working with any age group. Based on the everyday experiences of the teachers who have written them, these are teachers' voices offering sound advice and guidance to fellow professionals.
Bill Rogers is an Education Consultant and author who lecturers widely on behaviour management, discipline, effective teaching, stress management and teacher welfare across the UK, Australia and New Zealand. He is Visiting Professor in the areas of Behaviour Management and Discipline in Schools at the Institute of Education, University of London.
All royalties from the sale of this book are donated to the charity World Vision and their children's education programmes in South East Asia.
Table of Contents
PART ONE: CHALLENGING BEHAVIOUR: OUR THINKING, ATTITUDES AND STRATEGY
---
We Cannot Predict Where Our Students May End up
The 'Pygmalion Effect': Where Expectancy Can Lead
'Dear Luke': What I Saw at the Outset and How Children's Behaviour Challenges us in Positive Ways
My Global Classroom
'William' and 'Muddling through'
Parents: The Difficult Chat
PART TWO: UNDERSTANDING CHALLENGING CHILDREN AND CHILDREN WITH EMOTIONAL AND BEHAVIOURAL DISORDER
---
Understanding emotional and behavioural disorder in mainstream schools
Measurement of difference or meaning (when working with challenging children)
Changing perceptions of challenging behaviour: Tom and his teacher
Finding a connection point for change in behaviour: Alex 'wins a race'
Choosing to teach: choosing to make a difference
PART THREE: TEACHING CHILDREN WITH EMOTIONAL AND BEHAVIOURAL DISORDER
---
Introduction
One, two, three, four, out the door - or STOP (Straight To the Office Please)
There is always a way back: an individual behaviour management plan
Helping a child change his behaviour and his short attention span
AD/HD and teaching academic survival behaviours
A tall order: a challenging student on day one and after
Individual behaviour management plans and group support with infant-age children: Troy's story
PART FOUR: THE HARD-TO-MANAGE CLASS: WHEN IT IS MORE THAN ONE OR TWO
---
The hard-to-manage class: reasons, options, support
My most challenging Year 8 class ever
The 'class from hell'
Classroom meetings to the rescue
A winner - in a hard class
PART FIVE: WORKING TO BUILD A CO-OPERATIVE CLASSROOM GROUP: CLASSROOM MEETINGS AND BUILDING RELATIONSHIPS
---
Introduction
Friendship problems: using a solving circle
Relationships and conflict-solving (classroom and playground) with infants
Creating the peaceable school
A beautiful place: building a multicultural school
A human story
PART SIX: PRINCIPLES AND PRACTICES THAT ENABLE US TO MAKE A DIFFERENCE WITH INDIVIDUAL CHILDREN AND CLASSROOM GROUPS
---
PART SEVEN: SUPPORTING PARENTS OF CHILDREN WITH CHALLENGING BEHAVIOURS
---
Communicating with parents who challenge...
Dealing with - and supporting - difficult parents
Supporting the parents of children with challenging behaviour
Working with difficult parents
Working with parents/ca/carers of children with challenging behaviours (primary)
An extended note on anger (primarily from Aristotle)
PART EIGHT: NARRATIVES: HOW TEACHERS' STORIES CONNECT US, SUPPORT US, ENCOURAGE US AND ENABLE US AS TEACHERS
---
Reviews
Quote by : 'Well edited and short, the essays are easy to read and fit in to a busy life…The honest and thoughtful reflections of the teachers provide a sense of hope that prosocial behaviour is achievable and not a dream!' - Youth in Mind
---
'It's easy to see why Bill Rogers is revered by generations of teachers across the world. The stories assembled here are compelling and reflective. They will provide a stimulus and support to teachers 'cutting and chipping themselves into the shape of the key which will have the merit of unlocking the minds and opening the hearts' of the pupils they teach. Bill's overview and commentary will as usual resonate with schools and teachers. It deserves a place along with his other books in the staff library. Any one of the case studies here, along with Bill's observations, could form the basis of any school working group examining the issue of 'behaviour'. It's bound to lead to an improvement among pupils parents and staff. And it will help teachers at the end of their tether both preserve their sanity and extend the tether!' - Sir Tim Brighouse, Advisor, Hamlyn Foundation and Visiting Professor, Institute of Education, University of London
'Well edited and short, the essays are easy to read and fit in to a busy life…The honest and thoughtful reflections of the teachers provide a sense of hope that prosocial behaviour is achievable and not a dream!' - Youth in Mind

---

'It's easy to see why Bill Rogers is revered by generations of teachers across the world. The stories assembled here are compelling and reflective. They will provide a stimulus and support to teachers 'cutting and chipping themselves into the shape of the key which will have the merit of unlocking the minds and opening the hearts' of the pupils they teach. Bill's overview and commentary will as usual resonate with schools and teachers. It deserves a place along with his other books in the staff library. Any one of the case studies here, along with Bill's observations, could form the basis of any school working group examining the issue of 'behaviour'. It's bound to lead to an improvement among pupils parents and staff. And it will help teachers at the end of their tether both preserve their sanity and extend the tether!' - Sir Tim Brighouse, Advisor, Hamlyn Foundation and Visiting Professor, Institute of Education, University of London