Hands-on, Practical Guidance for Educators
From math, literacy, equity, multilingual learners, and SEL, to assessment, counseling, and education leadership, our books are research-based and authored by experts on topics most relevant to what educators are facing today.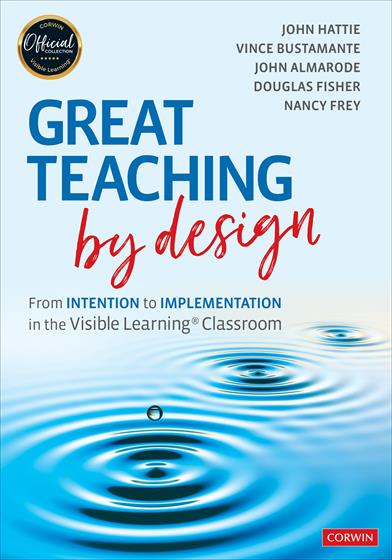 Look Inside
Bestseller!
Great Teaching by Design
From Intention to Implementation in the Visible Learning Classroom
Product Details
Grade Level: PreK-12
ISBN:

9781071818336

Published By: Corwin
Year:

2020



Page Count: 128

Publication date:

November 20, 2020
Price: $32.95
Description
Turn good intentions into better outcomes—by design! 

Why leave student success up to chance? By combining your intuition and experience with the latest research on high-impact learning practices, you can evolve your teaching from good to great and make a lasting difference for your students. 

Organized around the DIIE framework, Great Teaching by Design takes you step-by-step from intention to implementation to accelerate the impact your teaching has on student learning. Inside, you'll find:
A deep dive into the four stages of the DIIE model: Diagnosis and Discovery, Intervention, Implementation, and Evaluation  
A fresh look at the Visible Learning research, which identifies the most powerful strategies for teaching and learning 
Stories of best practices in action and examples from classrooms around the world
Great teaching may come by chance, but it will come by design. Whether you're new to teaching or looking to give your instruction a boost, take up the challenge and discover a new framework for teaching with true intentionality. 
Table of Contents
Tables, Figures, and QR Codes
---
Acknowledgments
---
About the Authors
---
Introduction
---
Chapter 1: Implementing What Works Best
The DIIE Model as Shared Language for Implementation
Ways of Thinking and Motivations
Teacher Decision Making
Ways of Thinking and Decision Making
Motivation and Decision Making
Teacher Motivation
Motivation and Implementation
A Shared Language for Great Teaching
Chapter 2: Diagnosis and Discovery
The Who Behind the Learning
Standards of and for Learning as the Starting Point
Initial Assessments
Development of Initial Assessments
Teacher Noticing
Chapter 3: Intervention
This Is Not Deficit Thinking
Identifying the Skill, Will, and Thrill: Where Are Our Learners Now?
Applying the Goldilocks Principle
High-Probability Interventions
Aligning High-Probability Interventions With Skill, Will, and Thrill
High-Probability Interventions for Enhancing Skill
High-Probability Interventions for Enhancing Will
High-Probability Interventions for Enhancing Thrill
Chapter 4: Implementation
Fidelity to Clear and Visible Learning+® Goals
Student Awareness of Success Criteria
Success Criteria and Aligning the Intervention
Necessary Dosage of an Engaging, Challenging, and Authentic Learning Experience
Adaptations Through Adaptive and Compensatory Approaches
Quality Delivery in an Environment for Implementation
Fostering an Environment of Mistakes
Chapter 5: Evaluation
A Broader View of Evaluation
Planning for Evaluation
Evaluating the Evidence
The Role of the Post-Assessments in Evaluation
Collecting Evidence From Post-Assessments
Evaluating the Evidence From Post-Assessments
Conclusion
References
---
Index
---