Hands-on, Practical Guidance for Educators
From math, literacy, equity, multilingual learners, and SEL, to assessment, counseling, and education leadership, our books are research-based and authored by experts on topics most relevant to what educators are facing today.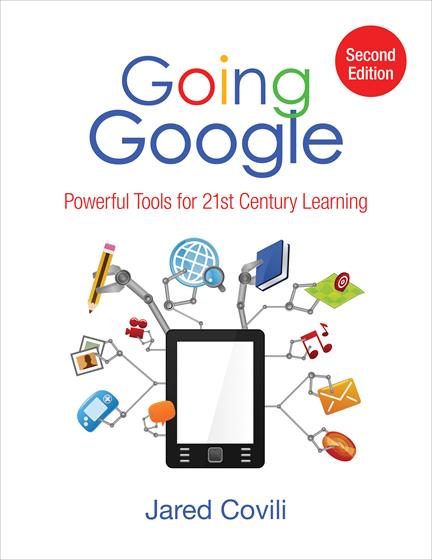 Bestseller!
Going Google
Powerful Tools for 21st Century Learning
Second Edition
Foreword by Peter DeWitt

Prepare students for the modern workplace with this updated guide to Google's latest tech tools. Includes tools' key points and features, teacher vignettes and tutorials.
Product Details
Grade Level: PreK-12
ISBN:

9781506325286

Published By: Corwin
Year:

2016



Page Count: 240

Publication date:

September 29, 2016
Price: $39.95
Description
Unique ideas for authentic, 21st-century learning!
There's no denying it, 21st Century skills are essential to prepare students for college and careers. How do you manage the avalanche of information and activities required to help students become skilled communicators and collaborators? Prepare your students for the modern workplace with this newly updated guide to Google's latest tech tools.
New chapters and a companion website include teacher vignettes, screen casts, step-by-step project tutorials, and classroom management and technology tips.
Beginning and veteran K–12 teachers can quickly scan to any section for detailed guidance and practical implementation strategies. You'll learn:
Which tools help you meet 21st century skills and the new ISTE Standards for Students
The latest versions of Google Classroom, Google Drive, Google Chrome, Google Earth, YouTube, and more
5 major points to consider before using each tool
How to create quizzes, parent contract forms, student writing groups, and more
How to use technology-related activities to facilitate creativity, promote innovation, and enhance communication skills
Includes a handy glossary of tech terms. Use this engaging, skills-boosting guide to discover exactly how and why to use Google's latest tools as part of an effective teaching strategy!
"Google's presence in our nation's schools is a big one and is only going to increase. Jared Covili has put together an excellent guide—useful for those who are tech savvy and those who are not—for how teachers and students can use these tools for teaching and learning."
Larry Ferlazzo, Advice Columnist
Education Week Teacher
"Jared Covili does an excellent job diving into the intricacies of Google so everyone can get the most out of the suite of apps. If you are not 'Going Google,' you might as well just 'Ask Jeeves' for support. "
Nick Provenzano, Author of Classroom in the Cloud
The Nerdy Teacher
Table of Contents
FOREWORD
---
PREFACE
---
ACKNOWLEDGMENTS
---
ABOUT THE AUTHOR
---
INTRODUCTION
---
PART I. COMMUNICATING AND COLLABORATING
---
Chapter 1. Google Drive
Chapter 2. Google Calendar
Chapter 3. Gmail
Chapter 4. Google Sites
Chapter 5. Blogger
Chapter 6. Google Hangouts
Chapter 7. Google Classroom
Chapter 8. Google Voice
PART II. CREATIVITY AND INNOVATION
---
Chapter 9. Google Earth
Chapter 10. Google Photos
Chapter 11. YouTube
PART III. CRITICAL THINKING AND PROBLEM SOLVING
---
Chapter 12. Google as a Searching Tool and Advanced Search
Chapter 13. Google Custom Search
Chapter 14. Google Chrome
Chapter 15. Google Alerts
Chapter 16. Google Translate
Chapter 17. Google Keep
CONCLUSION
---
GLOSSARY
---
REFERENCES AND FURTHER READING
---
INDEX
---