Hands-on, Practical Guidance for Educators
From math, literacy, equity, multilingual learners, and SEL, to assessment, counseling, and education leadership, our books are research-based and authored by experts on topics most relevant to what educators are facing today.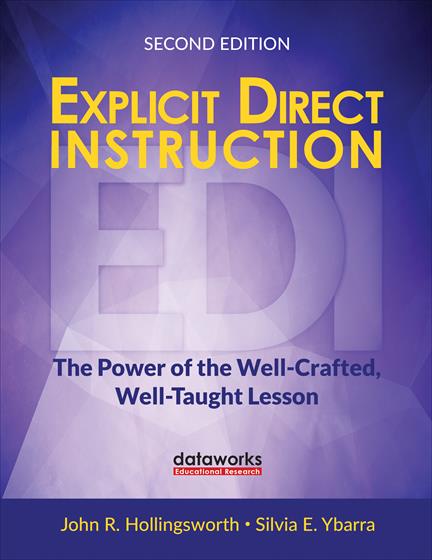 Bestseller!
Explicit Direct Instruction (EDI)
The Power of the Well-Crafted, Well-Taught Lesson
Second Edition

Explicit Direct Instruction (EDI) is a proven, highly effective approach to helping all students achieve. Refined, extended, and field-tested EDI methods are provided in this updated resource.
Product Details
Grade Level: PreK-12
ISBN:

9781506337517

Published By: Corwin
Series: Corwin Teaching Essentials
Year:

2017



Page Count: 248

Publication date:

September 29, 2017
Price: $38.95
Description
A proven approach to better teaching and learning.
Explicit Direct Instruction (EDI), an approach based on the premise that all children can learn, helps teachers deliver well-designed, well-taught lessons that significantly improve achievement for all learners. Authors Hollingsworth and Ybarra have refined and extended their highly successful methods in this second edition of their bestselling book.
Written in an easy-to-read, entertaining style, this resource provides K-12 teachers with concrete strategies, detailed sample lessons, and scenarios that illustrate what EDI techniques look like in inclusive and diverse classrooms. With chapters covering the individual components of EDI, such as checking for understanding and activating prior knowledge, this updated edition refines the methods so that they are even more effective and easier to implement. Readers will find:
•
Strategies for continuous, systematized student engagement
•
Expanded corrective feedback strategies
•
Clear alignment to the latest content standards
•
A new, field-tested strategy for skill development and guided practice
•
Expanded information about differentiation and scaffolding
Combining educational theory, brain research, and data analysis, this is a fine-tuned, step-by-step guide to a highly effective teaching method.
"Before EDI, our school was a ship adrift at sea with everyone rowing in different directions. EDI has provided us with a framework for instruction and a common language that allowed us to all row in the same direction.
Benjamin Luis, Principal
Liberty Middle School, Lemoore, CA
"EDI makes students accountable. They see now that school is a place to work and learn and play, and they love it. Because even though it is hard, they are doing well."
Trudy Cox, School Instructional Coach
St. Mary Star of the Sea Catholic School, Carnarvon, Western Australia
Key features
Step-by-step implementation of the highly successful Explicit Direct Instruction (EDI) teaching method from DataWORKS
EDI is data-driven, field-tested, and supported by DataWORKS training events and workshops
Written in an entertaining, teacher friendly, easy to read style with classroom examples and samples of complete lessons at the elementary and secondary level
Individual chapters cover checking for understanding, lesson objectives, activating prior knowledge, concept and skills development, guided practice, and much more
Appropriate for ALL learners in inclusive and diverse classrooms
Table of Contents
Preface to the Second Edition: What's New in EDI
---
Acknowledgments
---
About the Authors
---
Chapter 1. Students Say, "I Can Do It!"
The Day I Saw the Breakthrough in Classroom Instruction
Where Our Research Began: Student Achievement
Where Our Research Led: Classroom Instruction
Chapter 2. Are Some Approaches Better Than Others? What Is Effective Instruction?
Why Are Children Sent to School? Talent Discovery Versus Talent Development
The Teaching/Learning Dilemma: Speed Up or Slow Down
Criteria for an Instructional Approach
Two Philosophies About Education
High-Stakes Testing
What to Do?
EDI Is Not Lecturing
EDI Is Not Scripted
Research Supports Direct Instruction
When to Use Group Work
Chapter 3. Good Instruction Is Always Good Instruction: An Explicit Direct Instruction Overview
What Is Explicit Direct Instruction?
Explicit Direct Instruction Lesson Design
Explicit Direct Instruction Lesson Delivery
How to Use EDI in Your Classroom
Chapter 4. Creating Engaged Students: Use Engagement Norms!
Student Engagement Is Created When You Ask Your Students to Do Something
History of Student Engagement Norms
Student Engagement Norm 1: Pronounce With Me
Student Engagement Norm 2: Track With Me
Student Engagement Norm 3: Read With Me
Student Engagement Norm 4: Gesture With Me
Student Engagement Norm 5: Pair-Share
Student Engagement Norm 6: Attention Signal
Student Engagement Norm 7: Whiteboards
Student Engagement Norm 8: Use Complete Sentences (Public Voice, Academic Vocabulary)
Training Students in the Engagement Norms
Summary
Chapter 5. Is Everyone Learning? Checking for Understanding
What Is Checking for Understanding?
TAPPLE—Checking for Understanding the EDI Way!
Teach First
Ask a Specific Question
Pair-Share
Pick a Non-Volunteer
Listen Carefully to the Response
Effective Feedback
Summary
Chapter 6. Everyone Learns: Corrective Feedback and Whiteboards
Listen Carefully to the Response
Effective Feedback
Whiteboards, the Best Way to CFU!
Summary
Chapter 7. Establishing What Is Going to Be Taught: Learning Objective
Part I: Well-Designed Learning Objectives
Part II: Writing Standards-Based Learning Objectives
Part III: The Learning Objective Must Be Presented to the Students
Summary
Chapter 8. Connecting to What Students Already Know: Activating Prior Knowledge
Part I: What Does It Mean to Activate Prior Knowledge?
Part II: How to Activate Prior Knowledge
Summary
Chapter 9. These Are the Big Ideas: Concept Development
Part I: Concept Development Design
Part II: Concept Development Delivery
Summary
Chapter 10. I'll Work a Problem First: Rule of Two— Skill Development and Guided Practice
Skill Development (Teacher)
Guided Practice (Students)
How to Design Skill Development and Guided Practice
How to Teach Skill Development/Guided Practice
Summary
Chapter 11. This Is Important to Learn: Relevance
Relevance
When Do You Teach Lesson Relevance?
How Do You Provide Lesson Relevance?
How to Design Lesson Relevance
How to Teach Lesson Relevance
Summary
Chapter 12. Making One Final Check: Closing the Lesson
Closing the Lesson
How to Provide Lesson Closure
When Closure Is Complete, Initiate Independent Practice
Chapter 13. Planning for Success: Differentiation and Scaffolding
Differentiating and Scaffolding to Increase Student Success
In-Class Interventions and Out-of-Class Interventions
Response to Intervention (RTI) and EDI
Summary
Chapter 14. Having Students Work by Themselves: Independent Practice and Periodic Review
Starting With the End in Mind: The Independent Practice Must Match the Lesson
Periodic Review
Summary
Chapter 15. Creating Well-Crafted Lessons: Putting It All Together
Creating EDI Lessons From a Textbook
Creating Your Own EDI Lessons
DataWORKS Enters the Classroom to Teach
Chapter 16. Looking at All the Components: Analyzing a Sample Lesson
Use educeri.com for EDI Lessons
EDI Lesson Layout
Summary
Resources: What the Research Says
---
References
---
Index
---