Hands-on, Practical Guidance for Educators
From math, literacy, equity, multilingual learners, and SEL, to assessment, counseling, and education leadership, our books are research-based and authored by experts on topics most relevant to what educators are facing today.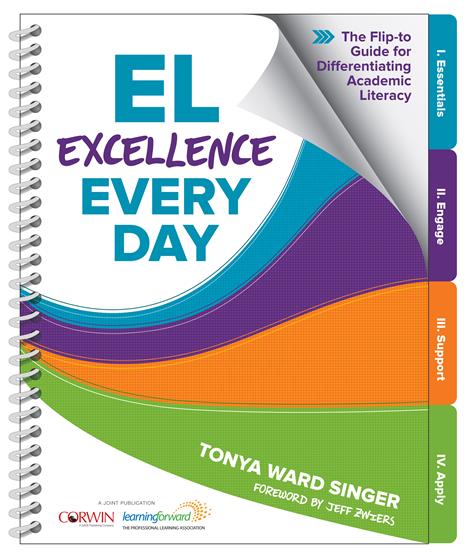 Look Inside
Bestseller!
EL Excellence Every Day
The Flip-to Guide for Differentiating Academic Literacy
Foreword by Jeff Zwiers
A Joint Publication with Learning Forward

Just flip to that strategy you want to learn or that literacy goal you want to reach for a wealth of ready-to-use resources to engage learners, build academic language, and strategically support instruction.
Product Details
Grade Level: PreK-12
ISBN:

9781506377872

Published By: Corwin
Year:

2018



Page Count: 328

Publication date:

February 05, 2018
Price: $39.95
Description
Take the Flip-to Book Tour!

You have to see this book to believe this book. And once you use this book it will quickly become your most treasured teaching resource. What exactly is so remarkable? All of the best teaching tools in language and literacy are at your fingertips! Just flip to that strategy you want to learn or that literacy goal you want to reach for a wealth of ready-to-use resources to actively engage learners, build academic language, and strategically support literacy instruction.

Much more than a resource for EL specialists, EL Excellence Every Day is written for every teacher, with a singular focus on improving the ways we all differentiate literacy instruction. Busy teachers especially will appreciate:
Over 85 flip-to strategies that help you engage and support all learners

200+ prompts and linguistic scaffolds to facilitate academic conversations connected to specific literacy goals
Lesson-ready resources for essential literacy goals: anticipate before reading, read to understand, read to analyze and infer, and write with text evidence
Formative assessment tasks and if/then charts for personalizing teaching to every student
Differentiation guides that demonstrate how to adjust supports across EL proficiency levels

Intuitive, color-coded design so you can find what you need, when you need it
No one lesson or strategy is ever the perfect solution for every student. No one student learns in the same way. If there's one universal truth in teaching it's that every child is unique. Devour this book and soon enough you'll provide the excellent literacy instruction each and every student deserves each and every day.
"We need resources that clearly and quickly help us to meet diverse instructional needs every day in every classroom. Tonya Ward Singer's EL Excellence Every Day: The Flip-to Guide for Differentiating Academic Literacy is such a resource."
--JEFF ZWIERS, from the foreword
Table of Contents
Foreword
---
Acknowledgments
---
About the Author
---
SECTION I: ESSENTIALS FOR EL EXCELLENCE
---
1. INTRODUCTION
Why This Book?
Helping Every Teacher Excel Teaching ELs
Core Pedagogy for EL Excellence
How This Guide Helps You Every Day
Ways to Use This Flip-To Guide
2. ESSENTIAL MINDSETS
Mindsets Matter
Value English Learners' Assets
Expect Excellence From Every English Learner
Reflect in Inquiry About Your Impact
SECTION II: ENGAGE
---
3. ENGAGE EVERY EL
What Is Student Engagement?
Why Collaborative Conversations?
3.1 Whole-Class Conversation Structures
3.2 Partner Conversation Structures
3.3 Small-Group Conversation Structures
3.4 Up and Moving Conversation Structures
3.5 Fishbowl Structure
3.6 Listening to Conversations as Formative Data
3.7 Tools to Differentiate Student Conversations
3.8 Linguistic Frames for Conversations
3.9 Strategies to Actively Engage Emerging ELs
3.10 Total Physical Response Strategies
3.11 Read and Annotate Strategies
3.12 Collaborate to Write Strategies
SECTION III: SUPPORT
---
4. SUPPORT ELS STRATEGICALLY
What Supports Do ELs Need?
How Do I Personalize Supports?
How Do I Differentiate With Ease?
5. BUILD BACKGROUND
What and Why?
When Do I Build Background?
Who Benefits From Building Background?
Strategies to Build Background
5.1 Connect to Students' Background Knowledge and Experiences
5.2 Teach Concept Vocabulary With the Frayer Model
5.3 A Collaborative Approach to the Frayer Model
5.4 Direct Instruction Vocabulary Routine
5.5 Teach Vocabulary With Cognates
5.6 Model Through Teacher Action
5.7 Model Expectations With an Exemplar
5.8 Collaborate to Contrast Exemplars
5.9 Collaborate to Evaluate an Exemplar With a Rubric
Reflect on Chapter 5
6. SCAFFOLD LANGUAGE DURING A TASK
What and Why?
Strategies to Scaffold Language During a Task
Anticipating the Just-Right Level of Scaffolds
Tips to Be Strategic
6.1 Linguistic Frames
6.2 Word Banks
6.3 Word Bank Table
6.4 Sentence Chart
6.5 Graphic Organizers
Reflect on Chapter 6
7. TEACH LANGUAGE BEYOND A TASK
What and Why?
What Features of Language Do I Teach?
Strategies to Teach Language in This Chapter
7.1 Teach Language From Life Experience
7.2 Teach Language From a Text
7.3 Syntax (or Paragraph) Surgery
7.4 Teach Word Relationships
Reflect on Chapter 7
SECTION IV: APPLY STRATEGIES TO DIFFERENTIATE ACADEMIC LITERACY
---
8. MAKE EL EXCELLENCE ROUTINE
Four Steps, Four Conversation Tasks
Apply Essentials to Meet Specific Literacy Goals
Where Do I Begin?
What Will I Find in Each Chapter?
Be in Continuous Inquiry About Your Impact
9. ANTICIPATE
What and Why?
9.1 Make Predictions
9.2 Ask Questions Before Reading
10. READ TO UNDERSTAND
What and Why?
10.1 Identify Main Ideas
10.2 Self-Monitor and Use Context Clues
10.3 Use Affixes and Roots to Figure Out Unknown Words
11. READ TO ANALYZE AND INFER
What and Why?
11.1 Make Claims About Texts
11.2 Justify Claims With Text Evidence
11.3 Make Inferences About Characters
11.4 Make and Justify Claims About Theme and Author's Message
11.5 Compare and Contrast
APPENDIX: GRAPHIC ORGANIZERS
---
Collaborative Brainstorm
Frayer Model
Direct Vocabulary Instruction
Word Family Chart
Organize Cause and Effect
Claim and Justify With Text Evidence
References
---
Index
---