Hands-on, Practical Guidance for Educators
From math, literacy, equity, multilingual learners, and SEL, to assessment, counseling, and education leadership, our books are research-based and authored by experts on topics most relevant to what educators are facing today.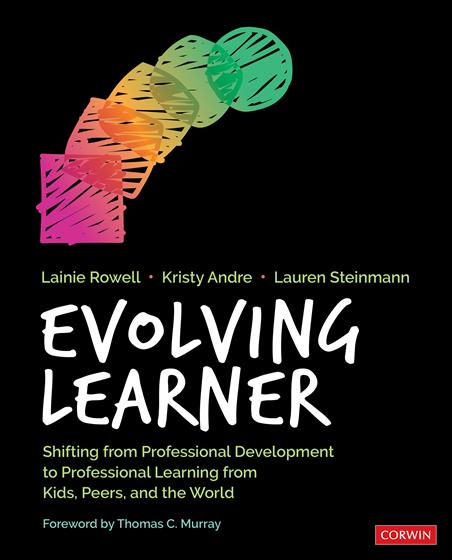 Evolving Learner
Shifting From Professional Development to Professional Learning From Kids, Peers, and the World
Foreword by Thomas C. Murray
A Joint Publication with Learning Forward

A framework focusing on three sources of learning—kids, peers, world—is shifting traditional PD to professional learning, where thinking is made visible for teachers and students.
Product Details
Grade Level: PreK-12
ISBN:

9781544338323

Published By: Corwin
Year:

2020



Page Count: 192

Publication date:

March 10, 2020
Price: $30.95
Description
Learn from Kids, Peers, and the World to Transform Professional Learning
What can kids teach us about educational practices? It turns out, plenty. PD is evolving into professional learning (PL), where personalized experiences focus on goals and outcomes, rather than seat time. In Evolving Learner, successful PL is framed through three critical sources: learning from kids, from peers, and from the world. Woven throughout the book are tangible connections to cycles of inquiry where a harmonious balance is the ultimate goal when students are engaged in inquiry for deeper learning and teachers are engaged in a parallel process to improve their practice.
The authors' unique framework shifts away from factory model "PD" and transforms it into experiences tailored to kids' and adult learners' specific needs. Clear strategies for accomplishing PL are presented through
A framework where both students and teachers are active agents of learning
Cycles of inquiry to empower students to become the owners of learning
Techniques to make thinking visible for teachers and students
Cutting edge coverage of applying technology to professional learning including the use of social media, gamification, and digital badges
The time is right to reclaim ownership of your professional learning: Evolving Learner is an essential guide for embarking on this journey.
Table of Contents
Foreword by Thomas C. Murray
---
Acknowledgments
---
About the Authors
---
Introduction
CHAPTER 1. LEARNING FROM KIDS
Honor the Learner: Kids
Leveraging the Most Abundant Resource in Our Schools
What Are They Thinking? Making Thinking Transparent to Tailor Instruction and Promote Teacher Inquiry
Ownership of Learning for All: Shifting From Students Who Consume Content to Learners Who Create Content
Looking Ahead
Resources
CHAPTER 2. LEARNING FROM PEERS
Honor the Learner: Peers
Workshops That Work: Renovating the One-Size-Fits-All Model
Professional Learning Communities (PLCs)
Coaching Principles and Practices
Practices in Action: Feeling Connected, Seen, and Heard
Social-Emotional Learning
Parents/Families as Peers
Tips: Listen, Be Flexible, Care
Resources
CHAPTER 3. LEARNING FROM THE WORLD
Honor the Learner: World
Becoming an Edu-Explorer
Developing Your Tribe
Social Media
Tips: Filter, Edit, Focus, Balance
Lurk No More
Resources
In Closing
---
References and Further Reading
---
Index
---