Hands-on, Practical Guidance for Educators
From math, literacy, equity, multilingual learners, and SEL, to assessment, counseling, and education leadership, our books are research-based and authored by experts on topics most relevant to what educators are facing today.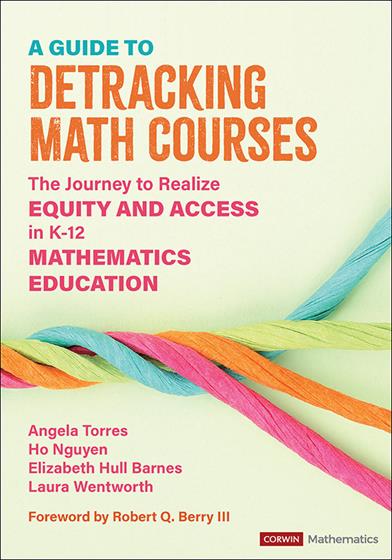 A Guide to Detracking Math Courses
The Journey to Realize Equity and Access in K-12 Mathematics Education
Foreword by Robert Q. Berry III

Designed for all educational partners, from policymakers to math coaches and teachers, this book provides a model for detracking efforts to create greater equity for all.
Product Details
Grade Level: PreK-12
ISBN:

9781071880746

Published By: Corwin
Series: Corwin Mathematics Series
Year:

2023



Page Count: 248

Publication date:

May 05, 2023
Price: $38.95
Description
Create a pathway to equity by detracking mathematics
The tracked mathematics system has been operating in US schools for decades. However, research demonstrates negative effects on subgroups of students by keeping them in a single math track, thereby denying them access to rigorous coursework needed for college and career readiness. The journey to change this involves confronting some long-standing beliefs and structures in education.
When supported with the right structures, instructional shifts, coalition building, and educator training and support, the detracking of mathematics courses can be a primary pathway to equity. The ultimate goal is to increase more students' access to and achievement in higher levels of mathematics learning–especially for students who are historically marginalized. Based on the stories and lessons learned from the San Francisco Unified School District educators who have talked the talk and walked the walk, this book provides a model for all those involved in taking on detracking efforts from policymakers and school administrators, to math coaches and teachers.
By sharing stories of real-world examples, lessons learned, and prompts to provoke discussion about your own context, the book walks you through:
Designing and gaining support for a policy of detracked math courses
Implementing the policy through practical shifts in scheduling, curriculum, professional development, and coaching
Supporting and improving the policy through continuous research, monitoring, and maintenance.
This book offers the big ideas that help you in your own unique journey to advance equity in your school or district's mathematics education and also provides practical information to help students in a detracked system thrive.
Table of Contents
Foreword
---
Chapter 1: Your Guidebook to Detracking Math
Part 1: Developing a Policy for Detracked Math Courses
---
Chapter 2: Getting to Know Your Policy Context
Chapter 3: Designing a Detracked Math Course Policy
Chapter 4: Gaining Support for a Detracked Math Course Policy
Part 2: Implementing a Policy of Detracked Math Courses
---
Chapter 5: Math Curriculum to Support Heterogeneous Classrooms
Chapter 6: Professional Development to Support Heterogeneous Classrooms
Chapter 7: Coaching Teachers to Support Heterogeneous Classrooms
Part 3: Maintaining Detracked Math Course Practice
---
Chapter 8: Crafting School Schedules That Support Heterogeneous Classrooms
Chapter 9: Considering Research Throughout Your Math Detracking Journey
Chapter 10: Monitoring and Maintaining a Detracked Math Policy