Hands-on, Practical Guidance for Educators
From math, literacy, equity, multilingual learners, and SEL, to assessment, counseling, and education leadership, our books are research-based and authored by experts on topics most relevant to what educators are facing today.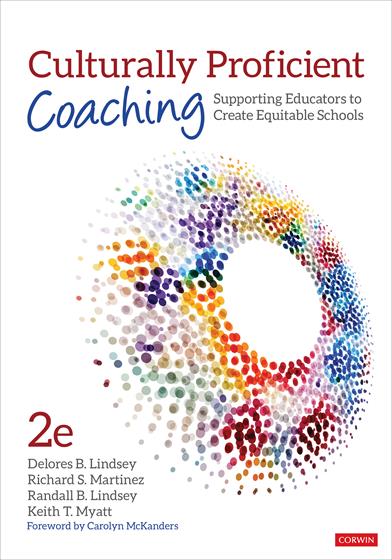 Updated Edition of Bestseller
Culturally Proficient Coaching
Supporting Educators to Create Equitable Schools
Second Edition
Foreword by Carolyn McKanders

Product Details
Grade Level: PreK-12
ISBN:

9781544356464

Published By: Corwin
Year:

2019



Page Count: 216

Publication date:

December 13, 2019
Price: $43.95
Description
Why a new edition of Culturally Proficient Coaching? Why now, especially?

Because several polarizing years later, there's even greater urgency for us all to critically examine our attitudes, beliefs, and practices when working with students who look or sound "different." No matter how broadly you define coach, no matter which coaching model you follow, this is the resource to help you get started.

With the first edition, the authors' big goal was to shift our thinking in service of standards-based teaching and leading, and equitable interactions that support all students achieving at highest levels. Now, with this second edition, the authors add a third goal: to encourage a more holistic mindset and expanded contextual uses.

New features include:

Enhanced research on the effectiveness of coaching in educational settings

New data on response to implicit bias and microaggressions--subtle and unintentional, yet destructive, forms of discrimination that continue to marginalize

Refinement and updating of the Tools of Cultural Proficiency, which enable you to provide equitable life-affirming experiences to all cultural groups

Expanded models of Culturally Proficient Coaching Conversations

A special section on crafting Breakthrough Questions to shift entrenched mindsets and barriers to Cultural Proficiency
By design, Culturally Proficient Coaching is an intentional, inside-out approach that mediates a person's thinking toward values, beliefs, and behaviors that enable effective cross-cultural interactions and equitable learning environments. Here's your opportunity to serve as that expert and trusted mediator, boosting educators' cultural confidence and consciousness, while honing their coaching skills.

"We owe it to ourselves and to our children to productively embrace and engage diversity, with all of its tensions, for the sustainability of humanity. These authors have given us the invitation, the road map, and the call to action. the embarkment is up to each one of us."

--Carolyn M. McKanders, Director Emeritus
Center for Adaptive Schools and Thinking Collaborative
Key features
Although the basic approach (alignment of the Cultural Proficiency and Cognitive Coaching frameworks) will be retained in the new edition, there are several important updates in the this latest edition:

(1) Chapters will reference additional, research-based coaching models where relevant.
(2) The authors will revise the self-assessment instruments in the previous editions
(3) This book will reference the latest versions of the Cultural Proficiency and Cognitive Coaching Frameworks, both of which have been updated since the publication of the first edition.
(4) This edition will include revised case studies that focus more specifically on using data as a point of improvement for practice.
(5) This edition will introduce the concept of "Breakthrough Questions" (a powerful idea that was introduced in later CP books)
(6) This edition will feature an all new District Action Plan
(7) This edition will address specific questions that have surfaced in the authors' consulting work in the years since the publication of the book, e.g.,
Now that we have coaches, on what should they focus?
Why should we train our coaches?
How do coaches fit in our overall instructional plan?
Our coaches have been assigned to "fix" teachers. How can we change that focus?
Table of Contents
Foreword From the First Edition Robert J. Garmston
Foreword for the Second Edition Carolyn McKanders
Preface
Acknowledgments
About the Authors
PART I: A COMPOSITE OF FRAMEWORKS: CULTURAL PROFICIENCY AND COGNITIVE COACHING
---
Chapter 1. An Assets-Based Approach for Coaches
Chapter 2. Key Concepts From Cognitive Coaching and Cultural Proficiency
Chapter 3. Understanding Self in Diverse Settings
Chapter 4. The Mental Model for Culturally Proficient Coaching (MMCPC)
Chapter 5. Mission View School District: A Context for Culturally Proficient Coaching
PART II: INTEGRATING THE ESSENTIAL ELEMENTS OF CULTURAL PROFICIENCY WITH THE STATES OF MIND
---
Chapter 6. Assessing Cultural Knowledge
Chapter 7. Valuing Diversity
Chapter 8. Managing the Dynamics of Difference
Chapter 9. Adapting to Diversity
Chapter 10. Institutionalizing Cultural Knowledge
PART III: APPLYING AND SUSTAINING CULTURALLY PROFICIENT COACHING
---
Chapter 11. Putting It All Together: Developing a Personal Action Plan
Appendix A: Coaching/Thinking Questions
Appendix B: Culturally Proficient Coaching Responses
Resources: Further Reading
References
Index