Hands-on, Practical Guidance for Educators
From math, literacy, equity, multilingual learners, and SEL, to assessment, counseling, and education leadership, our books are research-based and authored by experts on topics most relevant to what educators are facing today.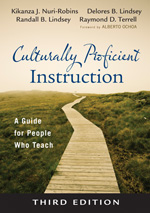 Look Inside
Bestseller!
Culturally Proficient Instruction
A Guide for People Who Teach
Third Edition
Foreword by Alberto Ochoa

The authors of this updated edition of a bestseller invite you to reflect on how you influence your students and collaborate with your colleagues.
Product Details
Grade Level: PreK-12, Elementary, Secondary
ISBN:

9781412988148

Published By: Corwin
Year:

2011



Page Count: 224

Publication date:

November 29, 2011
Price: $40.95
Description
Are you doing all you can to improve teaching and learning?
Culturally proficient instruction is the result of an inside-out journey of teaching and learning during which you explore your values and behaviors while evaluating the policies and practices of your workplace. The journey deepens your understanding of yourself and your community of practice. In the newest version of their best-selling book, the authors invite you to reflect on how you engage with your students and your colleagues as a community of learners. The third edition features a case study to show cultural proficiency in practice and:
An updated discussion of standards-based education guidelines
A conceptual framework for the tools of cultural proficiency
New language for understanding the microaggressions of dominant cultures
An integrated guide for use with study groups
Each chapter contains reflective activities and group work conducive to collaborative professional development. Culturally Proficient Instruction is invaluable for anyone dedicated to creating an environment in which all learners can succeed. 
Table of Contents
Forewords
---
Introduction
---
About the Authors
---
How to Use This Book
---
Part I: An Introduction to Cultural Proficiency
---
1. What Is Cultural Proficiency?
2. The Case for Cultural Proficiency
3. Culturally Proficient Standards
Part II: The Tools of Cultural Proficiency
---
4. Guiding Principles
5. Barriers to Cultural Proficiency
6. The Cultural Proficiency Continuum
Part III: The Essential Elements
---
7. Assessing Your Culture
8. Valuing Diversity
9. Managing the Dynamics of Difference
10. Adapting to Diversity
11. Institutionalizing Cultural Knowledge
12. Your Action Plan
References
---
Index
---
Reviews
Quote by Kathleen Gavin, Coordinator of Professional Development, Great Prairie Area Education Agency, Burlington, IA: "This book provides tools, resources, and thought-provoking vignettes to illustrate what can transform our educational practice to meet the needs of all kids."
"This book provides tools, resources, and thought-provoking vignettes to illustrate what can transform our educational practice to meet the needs of all kids."
Kathleen Gavin, Coordinator of Professional Development
Great Prairie Area Education Agency, Burlington, IA