Hands-on, Practical Guidance for Educators
From math, literacy, equity, multilingual learners, and SEL, to assessment, counseling, and education leadership, our books are research-based and authored by experts on topics most relevant to what educators are facing today.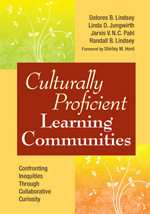 Look Inside
Bestseller!
Culturally Proficient Learning Communities
Confronting Inequities Through Collaborative Curiosity
Foreword by Shirley M. Hord

Integrating the four Tools of Cultural Proficiency with the PLC framework, this guide provides school leaders with practical strategies for building equity-focused PLCs to help all students achieve.
Product Details
Grade Level: PreK-12, Elementary, Secondary
ISBN:

9781412972284

Published By: Corwin
Year:

2009



Page Count: 168

Publication date:

August 03, 2009
Price: $34.95
Description
"Cultural proficiency challenges learning communities to go even deeper when inquiring about student barriers to success. This perspective is necessary to truly address the achievement and expectation gaps in our schools. Before we ask ourselves why our students are not succeeding, we must understand and examine our own perceptions and assumptions about them."
—Timothy A. Bias, Administrator
Pomona Unified School District, CA
Close the achievement gap with equity-focused professional learning communities!
Professional learning communities (PLCs) can be a powerful force for creating equitable, inclusive schools where all students succeed. Integrating the four Tools of Cultural Proficiency with the PLC framework, this relevant guide offers school leaders, district administrators, and staff developers a collaborative approach to address bias and inequity.
Culturally Proficient Learning Communities discusses the impact of our history on cultural understanding and provides a wealth of practical PLC-building strategies—including assessment and inquiry-driven planning, instructional design, curriculum development, coaching, leadership, and shared decision making. The authors examine the goals, purpose, and process of creating and sustaining equity-focused PLCs through:
Templates, protocols, activities, and rubrics for deconstructing inequity in student achievement
Stories, tools, and thinking prompts to guide an inside-out transformation toward cultural proficiency
An extended example of one school district's journey in becoming a culturally proficient learning community
Schools that view diversity and differences as assets and opportunities will experience stronger holistic growth and increased academic achievement!
Key features
A practical guide to forming and facilitating Culturally Proficient learning communities in the interest of all students
Integrates the four sets of Tools for Cultural Proficiency with the elements and characterisitcs of Professional Learning Communities and the domains of Small Learning Communities
Contains protocols, activities, and rubrics to convene conversations about the intersection of race, ethnicity, gender, and SES with disparities in student achievement
Table of Contents
Foreword by Shirley M. Hord
Preface
Acknowledgments
About the Authors
Part 1. Getting Centered
---
1. Getting Centered With the Tools of Cultural Proficiency
2. Getting Centered With Our History
3. Getting Centered: The Evolution of Learning Communities
Part 2. Voices From the Field
---
4. Maple View: Sustaining a Culturally Proficient Learning Community
5. Assessing Cultural Knowledge Through Shared Personal Practice
6. Valuing Diversity Is a Reflection of Shared Beliefs, Values, and Vision
7. Managing the Dynamics of Difference Through Collaboration
8. Adapting to Diversity Through Supportive and Shared Conditions
9. Institutionalizing Cultural Knowledge Through Collective Learning
Part 3. Call to Action: Disturb the System Through Curiosity and Inquiry
---
10. Aligning Our Behaviors With Our Values
References
Index