Hands-on, Practical Guidance for Educators
From math, literacy, equity, multilingual learners, and SEL, to assessment, counseling, and education leadership, our books are research-based and authored by experts on topics most relevant to what educators are facing today.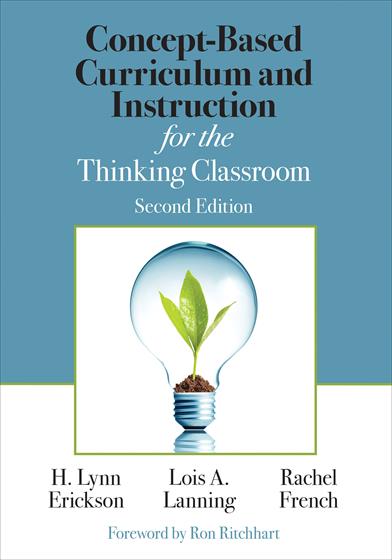 Look Inside
Bestseller!
Concept-Based Curriculum and Instruction for the Thinking Classroom
Second Edition (Revised Edition)
Foreword by Ron Ritchhart

A concept-based curriculum developed with the help of this book yields skillful, motivated students who can transfer knowledge and understanding to new situations along their learning journey.
Product Details
Grade Level: PreK-12
ISBN:

9781506355399

Published By: Corwin
Series: Corwin Teaching Essentials
Year:

2017



Page Count: 248

Publication date:

February 15, 2017
Price: $39.95
Description
Think Beyond the Facts!

Knowing the facts is not enough. If we want students to develop intellectually, creatively problem-solve, and grapple with complexity, the key is in conceptual understanding. A Concept-Based curriculum recaptures students' innate curiosity about the world and provides the thrilling feeling of engaging one's mind.

This updated edition introduces the newest thought leadership in Concept-Based Curriculum and Instruction. Educators will learn how to
Meet the demands of rigorous academic standards
Use the Structure of Knowledge and Process when designing disciplinary units
Engage students in inquiry through inductive teaching
Identify conceptual lenses and craft quality generalizations
Explore deeper levels of learning and become a Master Concept-Based Teacher.




"This book is smart, wise, and energizing. It honors the disciplines we teach by reminding us of their inherent meaning. It honors teachers with the belief that they grow as human beings through understanding the power of what they teach. It honors students by expecting them to become thinkers capable of reasoned stewardship of the world they live in and will inherit."
Carol Ann Tomlinson, William Clay Parrish, Jr. Professor
University of Virginia, Curry School of Education
"As factual and procedural knowledge are a click away, education needs to foster contextualization and higher order thinking through a focus on transferable conceptual understandings. This essential book translates the needed sophistication of concept-based learning into actionable classroom practices."
Charles Fadel, Author of "Four-Dimensional Education" and "21st Century Skills"
Founder, Center for Curriculum Redesign
Visiting Scholar, Harvard Graduate School of Education
Key features
The new edition will feature:


All new examples across disciplines
Introduce the Structure of Process and discuss how it connects with the Structure of Knowledge, introduced in the first edition
Updated research throughout
Two all new chapters: Ch. 5 on Concept-Based Inquiry and Ch. 6 on Developing the Concept-Based Teacher
New example units
Table of Contents
Introduction
---
1. The Thinking Classroom
2. The Structures of Knowledge and Process
3. Designing Concept-Based Instructional Units
4. Inquiry in Designing Concept-based Lessons
5. The Developing Concept-based Teacher and Self Assessments
Resources
---
A. Concept-Based Curriculum Glossary of Terms
B. Sample Verbs for Level 2 and 3 Generalizations
C. Concept-Based Graphic Organizers
D. Unit Design Steps
E. Checklist for Evaluating Concept-based Units
F. Mathematics Generalizations for Secondary Grade Levels
G. 3D American History Unit Web
References
---