Hands-on, Practical Guidance for Educators
From math, literacy, equity, multilingual learners, and SEL, to assessment, counseling, and education leadership, our books are research-based and authored by experts on topics most relevant to what educators are facing today.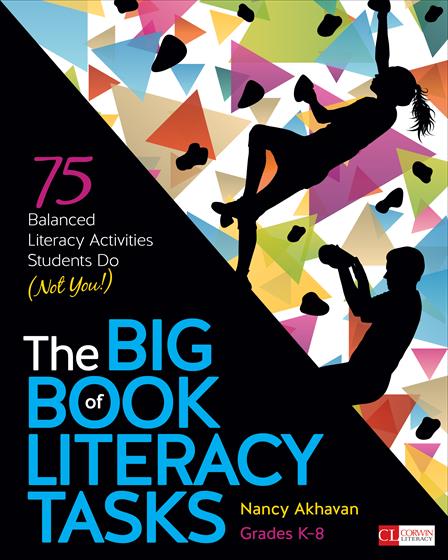 Look Inside
Bestseller!
The Big Book of Literacy Tasks, Grades K-8
75 Balanced Literacy Activities Students Do (Not You!)
With 75 tasks on beautiful full-color pages, this book offers a literacy instruction plan that ensures students benefit from independent effort and engagement.
Product Details
Grade Level: PreK-12
ISBN:

9781506389639

Published By: Corwin
Series: Corwin Literacy
Year:

2018



Page Count: 216

Publication date:

March 21, 2018
Price: $39.95
Description
The Comprehensive Handbook for Scaffolding Students' Literacy Growth

Our readers and writers must "do the doing" if they are to succeed. In The Big Book of Literacy Tasks, Nancy Akhavan offers an instructional plan designed to yield independent effort and engagement. 75 tasks in beautiful full-color two-pagers ensure gradual release by moving more swiftly from the "I do" teacher phase to the "you do," when students benefit from the healthy amount of struggle that is the hallmark of learning. (And spoiler alert: you kick the habit of hovering, over-explaining, and rescuing!)

Backed by research and thoughtfully arranged to make day-to-day planning easier, this groundbreaking book provides:
Reading and writing tasks organized into 3 sections—everyday skills, weekly practices, and sometime engagements requiring greater complexity
Mini-lessons that are essential— whether you use a reading program, a workshop approach, or are just transitioning to Balanced Literacy
Colorful teaching charts allowing you to quickly grasp the high points of each lesson
A clear task structure for introducing and managing the stages as you move students toward independent practice
Mid-task "Watch Fors" and "Work Arounds" showing how to coach without risking helicopter teaching
Amazing scaffolding tips for meeting the needs of a range of learners
Sample student work that offers valuable insights on how to use the tasks as formative assessments
Practical and engaging, The Big Book of Literacy Tasks gives you a clear framework for "working the minds" of your students, helping them forge their own path to becoming better readers and writers.
Table of Contents
Acknowledgments
---
Introduction
---
Section One: Everyday Tasks for Reading, Writing, and Thinking
---
1. A New Spin on Who, What, Why, When, and Where
2. Making Predictions to Help Comprehension
3. Journal Writing After Reading
4. Make a Connection to the World When Reading a Text Independently
5. Quoting an Important Idea in a Nonfi ction Text
6. Name Character Motives and Actions
7. Name Rising Plot
8. Name Plot Resolution
9. Tell the Text
10. Dig Deeper Into the Text
11. Guided Comprehension Talks
12. Elaborate and Clarify Meaning
13. Setting Routines for Independent Reading
14. Fixing Up When Attention Wanders
15. Communicating Your Heads-Up Ball Approach
16. Answering a Text-Dependent Question
17. Tell Why (You Think, Believe, Remember, Know) With Why Messages
18. Make a Bold Statement About a Text
19. Extend Thinking When Discussing a Text
20. One-Liners for Nonfi ction Texts
21. Crystal Ball Predictions
22. Yesterday's News
23. Annotate Text
24. Sentence Strip Statements
25. Write Questions About Reading
26. Super Cool Three Steps to Describe an Experience
27. Getting Kids to Write: Wonderful Concentration
28. Sketch to Write
29. Getting Help From Another Writer: Write Dialogue in Narratives and Quotes in Reports
30. Getting Help From Another Writer: Write a Hook
31. The Right Amount of Details, The Right Amount of Clarity
32. Thinking Small to Write Well
33. Writing a Jot About What Was Read
34. Works Too Long and Never Gets Any Writing Done
35. Dialogue Journals
Section Two: Weekly Tasks for Reading, Writing, and Thinking
---
36. A nalyze for Author's Purpose With a Text That Is a Little Too Hard for Students to Read on Their Own
37. Create a Structured Outline of a Text
38. Collecting Research and Organizing Notes for Writing
39. Plot Summary Snapshots
40. Writing Information in a New Format
41. Stay on Point in Writing
42. Productive Use of the Author's Chair
43. Write a Short Research Report
44. Write an All About Text
45. Your Students Have a Voice: Writing an Opinion Text
46. Arguing the Solution to a Problematic Situation
47. Writing the Recipe for Success: How-to Texts
48. Writing Explanations, Be Like an Encyclopedia
49. Inquiry for Smart Minds
50. Responding to Literature With Some Kick to It
Section Three: Sometime Tasks for Reading, Writing, and Thinking
---
51. Identify Theme in a Complex Text
52. Posing Questions for Easier Inquiry
53. Writing a Fable or Myth
54. Writing a Fairy Tale
55. Justifying an Answer With a Claim and Evidence
56. Use Known Info to Help Others Learn New Info
57. Connecting Ideas Between Texts
58. Identifying Real Facts From Made-Up Facts: Fallacious Reasoning
59. Brainstorming Multiple Valid Answers/Responses
60. Concept Mapping Between Big Ideas
61. Make Me Ponder: Questions That Get the Thinking Juices Flowing
62. Writing Compare and Contrast Response to Literature
63. Peer-to-Peer Analysis and Response
64. Critique a Functional Document or Text
65. Visible and Visual: Use Known Concepts and Vocabulary to Understand a Text
66. Summarize a Text That Is a Little Too Hard for Students to Read on Their Own
67. Student Think-Alouds
68. Separate Central Idea From a Big Idea
69. Writing in Different Genres or Multimedia to Engage and Persuade
70. Creative Debate
71. I Am a Reader
72. I Am a Writer
73. Look Up
74. Goodbye, Perfect Teacher
75. Teacher and Learner
References and Further Reading
---
Index
---