Hands-on, Practical Guidance for Educators
From math, literacy, equity, multilingual learners, and SEL, to assessment, counseling, and education leadership, our books are research-based and authored by experts on topics most relevant to what educators are facing today.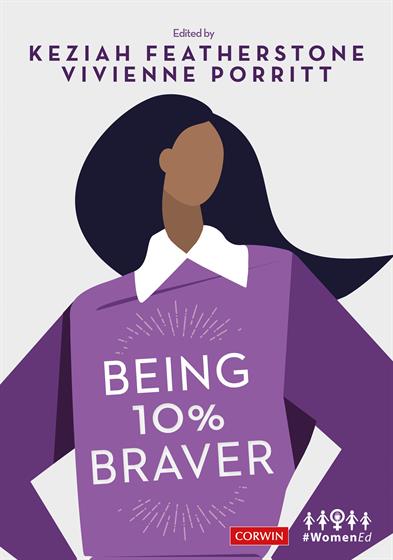 Look Inside
Bestseller!
Being 10% Braver
Product Details
Grade Level: PreK-12
ISBN:

9781529721973

Published By: SAGE Publications Ltd
Year:

2021



Page Count: 224

Publication date:

February 23, 2021
Price: $32
Description
Through the real-life stories of women leaders in education, drawn from across the #WomenEd community, this book offers guidance and inspiration on how to rise above challenging situations and find personal and professional growth. It's time to:

-Tackle imposter syndrome
-Know your worth
-Ask for what you need
-Call out unacceptable behavior
-Put yourself first when necessary
-Raise your voice until it's heard

It's time to own your journey and your story - it's time to become 10% braver.
Table of Contents
Part 1: Braver in the workplace
---
Chapter 1: Being 10% braver in Higher Education
Chapter 2: Coffee, Calpol and co-headship
Chapter 3: Taking the heat out of the menopause in the workplace
Chapter 4: Learning to dance in the rain
Chapter 5: Dynamic part-time leadership
Chapter 6: Making middle leadership count
Chapter 7: Being a woman and a leader with a disability
Chapter 8: Investing in ourselves as leaders: a guilty pleasure?
Part 2: Advocating for others
---
Chapter 9: When your partner is a female leader
Chapter 10: Stand by all women
Chapter 11: If there isn't a seat around the table, be the one who buys the chairs
Chapter 12: What governors can do to build inclusive workplaces
Part 3: Braving the change
---
Chapter 13: Retirement is not a dirty word
Chapter 14: Returning to teaching and leadership after illness
Chapter 15: Being an international school leader
Chapter 16: A small fish in a big pond: educational leadership outside of a school environment
Chapter 17: Overcoming the challenges of a woman leader with a disability in education
Part 4: Daring to be different
---
Chapter 18: Being taken seriously as a young leader: Can I see your ID?
Chapter 19: Why it's 'in' to be an introverted leader?
Chapter 20: Let me take you on a journey…
Chapter 21: Walking Gaily Forward
Part 5: Owning our bravery
---
Chapter 22: Brave vulnerability
Chapter 23: Being comfortable and authentic as an LGBT+ leader and role model
Chapter 24: Asylum
Chapter 25: Slaying the dragon of imposter syndrome
Chapter 26: Moving mindsets and failing forward
Part 6: Tackling an unfair system
---
Chapter 27: We can't be what we can't see: Make sure you're not the one blocking the view
Chapter 28: What to do if you find yourself working for a bully
Chapter 29: Pregnant and screwed
Chapter 30: Dealing with the motherhood penalty as a leader
Chapter 31: Time to say goodbye
Chapter 32: Inspiring the future