Hands-on, Practical Guidance for Educators
From math, literacy, equity, multilingual learners, and SEL, to assessment, counseling, and education leadership, our books are research-based and authored by experts on topics most relevant to what educators are facing today.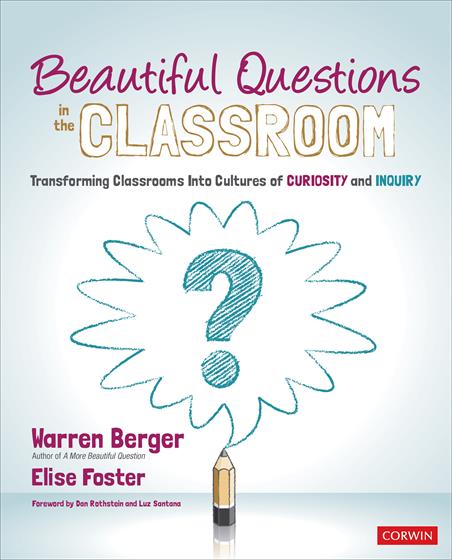 Beautiful Questions in the Classroom
Transforming Classrooms Into Cultures of Curiosity and Inquiry
First Edition
Foreword by Dan Rothstein and Luz Santana, The Right Question Institute

Written to be both inspirational and practical, Beautiful Questions in the Classroom shows educators how they can transform their classrooms into cultures of curiosity.
Product Details
Grade Level: PreK-12
ISBN:

9781544365466

Published By: Corwin
Series: Corwin Teaching Essentials
Year:

2020



Page Count: 208

Publication date:

April 16, 2020
Price: $39.95
Description
"What does it mean to learn? Most of us eventually realize that genuine learning is less about delivering the right answers and more about asking the right questions. In an age of automation, questioning is a uniquely human skill, one we should foster in school and in life. This book is an essential read for educators at every level."
— Daniel H. Pink, author of 'WHEN', 'DRIVE', and 'A Whole New Mind'
"For teachers around the world there is a moral urgency to work with young learners in innovative ways that nurture agency, curiosity, agile thinking and problem solving. The role of questions in this cannot be underestimated."
— Kath Murdoch. Consultant in Education and Author of 'The Power of Inquiry.'

Why does engagement plummet as learners advance in school? Why does the stream of questions from curious toddlers slow to a trickle as they become teenagers? Most importantly, what can teachers and schools do to reverse this trend? Beautiful Questions in the Classroom has the answers. This inspirational book from Warren Berger and Elise Foster will help educators transform their classrooms into cultures of curiosity. The book explores the importance of questioning and how inquiry leads to learning, innovation, and personal growth.

Readers will find:
- Strategies to inspire bigger, more beautiful student questions
- Techniques to help educators ask more beautiful questions
- Real-world examples, case studies, practical ideas, and question stems
- Videos showing strategies at work

Great teachers help students to ask bigger, more beautiful questions. This book will prepare and inspire educators to develop a powerful teaching approach that creates a classroom full of student driven inquiry.
Table of Contents
Publisher's Acknowledgments
---
About the Authors
---
Foreword
---
Introduction
Chapter 1. Why Questioning Matters Now More Than Ever
What This Means for Students and Their Teachers
Critical Thinking Is Even More Critical Now
Questions Give Humans an Edge Over Technology
Producing Future Leaders
Chapter 2. What Discourages Student Questioning?
The Decline of Kids' Questions
The Five Enemies of Classroom Questioning
Chapter 3. Model the Behavior
Become a "Beautiful Questioner"
Start With Why
Become a Student of Your Own Work
Adopt a "Beginner's Mind"
Be Curious in the Classroom
Chapter 4. Create a Culture of Inquiry in the Classroom
Foster an Appreciation of Questioning
Create a Stimulating Environment for Questioning
Make It Safe to Question
Make Questioning a Team Sport
Provide a Basic Questioning "Starter Kit"
Reward and Celebrate Questioning
Chapter 5. Inspire and Activate Student Questions
Provoke Curiosity
See Think Wonder
Release the Questions!
The Question Formulation Technique
The Origins of the QFT
Learning to Use the QFT in Classrooms
The Question Focus
The Question Generation Stage
Chapter 6. Help Students Improve and Take Ownership of Their Questions
Improve the Questions That Have Been Generated
Other Ways to Improve Questions
Evaluate and Prioritize Questions
Reflect on What Has Been Learned
Take Ownership of Questions
Turn Questions Into Projects
Help Students Find Their Own, Personal Big Beautiful Questions
Chapter 7. Be a Questioning Leader (in Your School, Community, and the World)
Ask Questions That Clarify
Ask Questions That Help You Rethink and Reinvent
Ask Questions That Help You Help Others
Ask Questions That Can Help You Enact Change
Taking Action
References
---
Resources
---
Index
---