Hands-on, Practical Guidance for Educators
From math, literacy, equity, multilingual learners, and SEL, to assessment, counseling, and education leadership, our books are research-based and authored by experts on topics most relevant to what educators are facing today.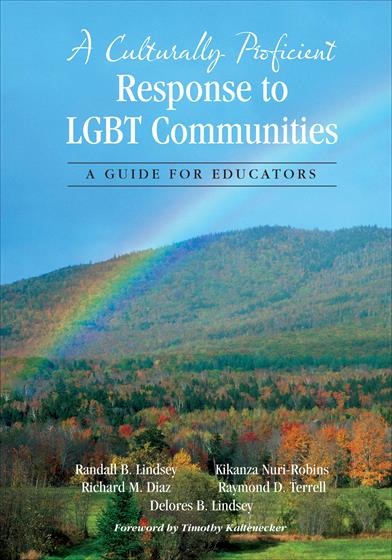 Look Inside
A Culturally Proficient Response to LGBT Communities
A Guide for Educators
Foreword by Timothy Kaltenecker

Positive systemic change begins when leaders propel schools toward diverse-friendly environments. Build welcoming, safe spaces through this inside-out analysis of cultural proficiencies, policies, and practices.
Product Details
Grade Level: PreK-12
ISBN:

9781452241982

Published By: Corwin
Year:

2013



Page Count: 184

Publication date:

June 20, 2013
Price: $34.95
Description
An introspective response with LGBT communities for positive change
A Culturally Proficient Response to LGBT Communities is a guide for educators to collaboratively combat issues of discrimination, inequity, and bullying through the review of current policies, practices, and deeply held assumptions about Lesbian, Gay, Bisexual, Transgendered (LGBT) communities. This inside-out approach carries readers through a personal journey of reflection to action by using the Tools of Cultural Proficiency to examine their values, beliefs, and assumptions about how LGBT communities are served educationally.
Creating safe and welcoming schools includes both setting effective and appropriate policies and the inside-out analyses of one's own beliefs and values. Resulting cultural proficiencies, steeped in self-reflection, boost empathy and improve learning environments. On this simple, powerful premise, readers will find:
Inside-out growth through personal stories and case-studies
Reflection through activities and prompts appropriate for individuals and teams
Insight into current responses to bullying
Using this first step for positive systemic change, school leaders can elevate understanding and propel schools toward safe and diverse-friendly environments.
"This book provides essential tools for educators who want to make schools safe and welcoming for all students. I could not put this book down. In my nearly 25 years of education I have not come across a resource that handles the needs of LGBT students as sensitively and supportively as these authors have using the tools of Cultural Proficiency."
—Gunn Marie Hansen, Assistant Superintendent of Educational Services
Orange Unified School District, CA
Key features
(1) The first book to apply the principles and tools of cultural proficiency to eliminating homophobia and heterosexism in our schools.

(2) Based on a simple but powerful premise, i.e., the first step to achieving systemic change is for professionals to look inward by examining their cultures, values, and beliefs in relation to the populations they serve.

(3) Incorporates cases and personal stories as illustrations of an inside-out growth process.

(4) Includes activities and reflective prompts for use by individuals and teams.

(5) Uses the Cultural Proficiency Continuum (one of the powerful tools of Cultural Proficiency) to analyze individual and schoolwide responses to bullying.

(6) Broad focus addresses multiple stakeholders including students, staff, parents, and community.


Table of Contents
Foreword by Timothy Kaltenecker
---
Acknowledgments
---
About the Authors
---
Introduction
---
I. Introduction--Background, Challenges, and Opportunity
---
1. Setting the Context
Getting Centered
Going Deeper
2. The Tools of Cultural Proficiency
Getting Centered
Going Deeper
3. Equality and Equity Are Both Important, Just Not the Same
Getting Centered
Going Deeper
4. Understanding Our History Helps Shape Our Future
Getting Centered
Going Deeper
II. Westfield Unified School District
---
5. Creating Safe Space: Moving From Compliance to Advocacy
6. Assessing Cultural Knowledge
Getting Centered
Valuing Diversity
Westfield Unified School District Case Story
Going Deeper
7. Valuing Diversity
Getting Centered
Valuing Diversity
Westfield Unified School District Case Story
Going Deeper
8. Managing the Dynamics of Difference
Getting Centered
Managing the Dynamics of Difference
Westfield Unified School District Case Story
Going Deeper
9. Adapting to Diversity
Getting Centered
Adapting to Diversity
Westfield Unified School District Case Story
Going Deeper
10. Institutionalizing Cultural Knowledge--You, Your School, and Your Community
Getting Centered
Institutionalizing Cultural Knowledge
Professional Learning for General Educators
Going Deeper
III. Next Steps
---
11. Moving From Bystander to Ally
Why We Do This Work
---
Resources
---
Resource A1 – Book Study Guide
Resource A2 – The Apps of Cultural Proficiency
Resource B – Quick Glossary
Resource C1 – Sexual Orientation Questionnaire
Resource C2 – Unpacking the Knapsack of Sexual Orientation Privilege
Resource D – Community Resources
Resource E - Cultural Proficiency Books' Essential Questions
Cultural Proficiency Books Matrix
---
References
---
Index
---