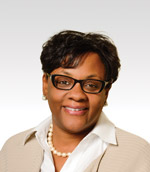 Cheryl Holcomb-McCoy
Dr. Cheryl Holcomb-McCoy believes in the revolutionary power of school counseling. An American Counseling Association (ACA) Fellow with 30 years of experience as a former kindergarten teacher, elementary school counselor, family therapist, and most recently university professor and administrator, she has a wealth of knowledge, expertise, and wisdom.
Dr. Holcomb-McCoy is currently the Dean of the School of Education and a professor at American University (AU). She is also the author of the best-selling book School Counseling to Close the Achievement Gap: A Social Justice Framework for Success (1st edition) and her upcoming book, Antiracist Counseling in Schools and Communities (ACA Publishing).
In her five years as Dean, Dr. Holcomb-McCoy founded AU's Summer Institute on Education, Equity and Justice, and the AU Teacher Pipeline Project, a partnership with the DC Public Schools and Friendship Charter Schools. She is also actively working to develop an antiracist curriculum for teachers-in-training.
Prior to leading the School of Education at AU, she served as Vice Provost for Faculty Affairs campus-wide and Vice Dean of Academic Affairs in the School of Education at Johns Hopkins University. She launched the Johns Hopkins School Counseling Fellows Program and The Faculty Diversity Initiative. Dr. Holcomb-McCoy has also been an associate professor in the Department of Counseling and Personnel Services at the University of Maryland College Park and Director of the School Counseling Program at Brooklyn College of the City University of New York.
A decorated scholar, she has written 16 chapters in edited books and more than 40 articles in peer-reviewed journals. From 2014 to 2016, she served as a consultant to former First Lady Michelle Obama's Reach Higher Initiative, a program dedicated to supporting first-generation students make it to and through college. She also serves on the board of Martha's Table - a nonprofit that supports health and wellness for children and families in the nation's capital.
Dr. Holcomb-McCoy's passion for school counseling, mental health, and wellness starts at home. As a proud mother of two, she knows firsthand the importance of systemic change to help students reach their full potential.
A proud member of Delta Sigma Theta Sorority, Inc., Dr. Holcomb-McCoy holds her bachelor's and master's degrees from the University of Virginia. In addition, she earned a doctorate in Counseling and Counselor Education from the University of North Carolina at Greensboro.
She lives in Potomac, Maryland, with her husband and two children.
---
Related Titles
This is a carousel with related book cards. Use the previous and next buttons to navigate.